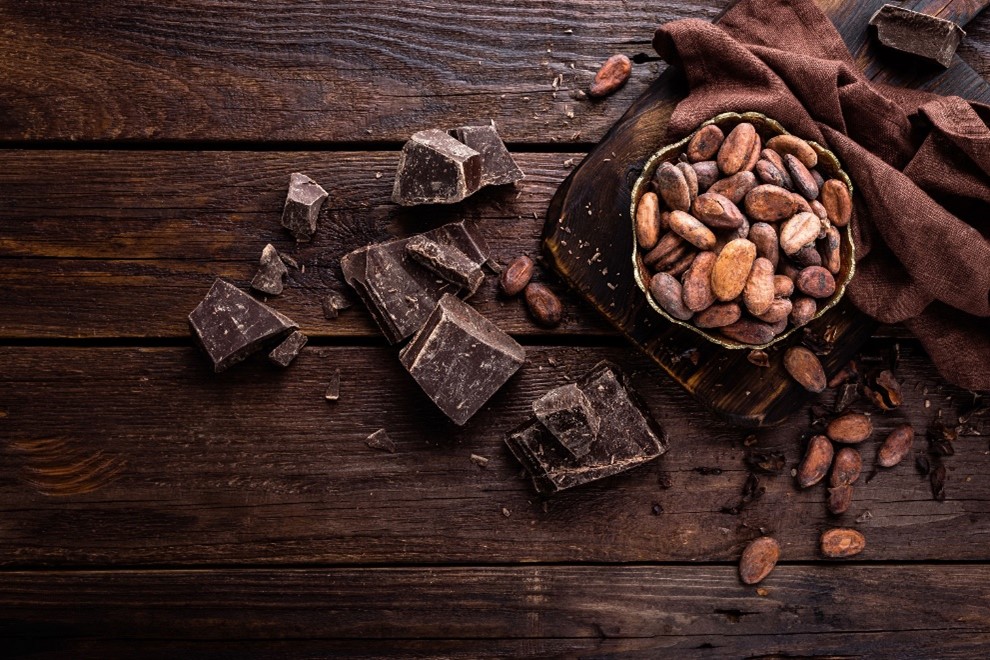 The Healthy Side of Dark Chocolate
As kids, we're encouraged not to overeat candy, but not every sweet treat is as unhealthy as we may believe. Many studies have found chocolate to be a great source of antioxidants and minerals and can lead to a healthy heart, skin, brain and gut. So, the next time you're craving something sweet, consider snacking on a dark chocolate bar or making yourself a hot chocolate beverage.
Choosing the Right Dark Chocolate
The health benefits of chocolate don't come from processed candy bars and other chocolaty treats but from unsweetened dark chocolate made with high percentages of cocoa. Popular chocolate bars contain lots of sugar and fat and can result in unwanted health effects.
When you're shopping for chocolate, you want to find dark chocolate bars with at least 70 percent cocoa to reap any health benefits. You can purchase dark chocolate bars and powders with up to 100 percent cocoa, but the higher percentage of cocoa in the bar, the bitter the taste. In addition to the cocoa percentage, also look at the ingredients for milk chocolate bars in disguise. Stay away from bars containing dairy, including milk, butter and whey, and added sugars. A natural dark chocolate product will be low in sugar and have a short ingredients list.
Even if you consume the right dark chocolate, it's also important to eat chocolate in moderation. Chocolate contains natural sugar, and overeating can lead to cavities, headaches, increased blood sugar levels and weight gain.
Benefits of Dark Chocolate
We probably don't need much convincing to consume more chocolate, but plenty of research supports the health benefits associated with eating dark chocolate.
Dark chocolate contains many antioxidants and minerals. Dark chocolate contains plant-based nutrients called flavonoids, which are natural antioxidants commonly found in fruits and vegetables. Dark chocolate is also rich in iron, magnesium, and zinc, all of which are essential elements for proper growth and development.
Dark chocolate can reduce several risk factors for heart disease. Since dark chocolate contains so many natural antioxidants, it can lower cholesterol and blood pressure; two leading factors for many heart conditions. Concentrated dark chocolate also contains monounsaturated fat, known for lowering cholesterol and decreasing your heart disease risk.
Dark chocolate may improve brain function. Research out of Harvard Medical School found chocolate to enhance blood flow to the brain and may even slow the cognitive decline associated with Alzheimer's disease. Another study found dark chocolate to improve the brain's ability to reorganize itself in response to infection.
Dark chocolate can improve gut health and help you lose weight. It may seem counterintuitive, but dark chocolate is good for your gut and losing weight. Research published in the American Journal of Clinical Nutrition found that chocolate can reduce gut inflammation by promoting healthy bacteria growth. Dark chocolate can also reduce hunger cravings, making it easier not to overeat and gain weight.
Dark chocolate is good for the skin. Some flavonoids found in dark chocolate called flavanols can improve blood flow to the skin, which increases skin's hydration and density. Increased blood flow can also strengthen the top layer of the skin and reduce sun damage.
Chocolate can be a great source of antioxidants and minerals, but it's not the only secret superfood. If you'd like to learn more about improving your health and maintaining your independence as you age, the team at Visiting Angels St. Louis Park can help. Our compassionate caregivers assist clients with everything from grocery shopping to meal preparation and kitchen cleanup. We also provide light housekeeping, transportation to doctor's appointments and personal grooming services. If you're living in Minneapolis, St. Louis Park, Golden Valley, Richfield and the West Metro, and you'd like to learn more about our home care services, give us a call at 952.935.0789.