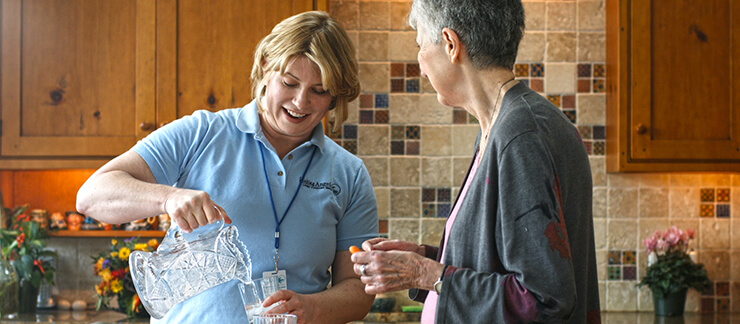 Explaining the Costs and Benefits of Respite Care
If your senior loved one needs in-home support, you may initially take on the responsibilities yourself. However, stress and fatigue can quickly arise when you also juggle multiple roles, including career and family obligations.
Caregiver burnout is significant and has many consequences. One way to preserve your physical and emotional well-being is through respite care services.
A respite care professional provides temporary relief from overwhelming caregiving tasks and responsibilities. The support affords you the extra time to address personal needs, spend quality time with your immediate family, run errands, or take a breather.
Respite Care Benefits
Visiting Angels' professional home care services, both full-time and part-time, can offer you a much-deserved break if you manage personal and work duties while supporting an elderly loved one. Experienced in-home caregivers can provide the following benefits:
Maintain your well-being
Taking time to look after your needs—including health, exercise, and social interaction—will help you look after your loved one and give them the dedicated attention they require.
Reduce frustration and burnout
Feeling frustrated or burnt out from time to time is perfectly normal, and you may need to step away and recharge. Visiting Angels can focus on your senior's needs so you can do something for yourself, such as going to lunch with a friend, taking a walk, going to an exercise class, meditating, attending a religious service, or reading a book.
Schedule times to meet your needs
When you hire Visiting Angels, you can choose the days, times, and the number of hours that fit your schedule and meet your loved one's needs. Whether it's a few hours a week temporarily, a long-term arrangement for a few days a month, or a specified period of time, such as a week-long work trip or vacation, the scheduled times are up to you.
Help with everyday tasks
In addition to providing personal care for seniors, in-home services can help with light housekeeping tasks around the home so you can return to your normal activities without facing a backlog of laundry, housework, or errands.
Avoid Senior Isolation
Respite care can also help your senior maintain social skills by allowing them to interact with someone else in a safe and supportive environment. Professional companions can help seniors complete daily tasks, such as light housework, meal preparation, and routines — or they offer companion care.
Provide peace of mind
When your mom or dad is with a Visiting Angels' professional caregiver, you know they're in good hands so that you can focus on personal or family needs.
How Much Does Respite Care Cost?
A "one size fits all" approach does not apply to respite care. The cost can vary depending on where your loved one resides, the necessary support, and how often you use services.
Average respite cost ranges include:
Facility-based respite services
Respite services in an assisted living facility may cost an average of $200 or more daily, depending on the support needed. Some facilities may require a minimum stay of several nights or days, and availability may be limited. Although an assisted living facility is a good option, you will need to arrange transportation to and from the facility and pack personal belongings for the duration of stay. Also, if your loved one is living with dementia, the change of environment may trigger increased confusion or agitation.
Community-based respite care
Adult day services, sometimes called "adult day care," can be cost-effective for family members who need support during the day. Some programs accept Medicaid or other insurance coverage and may charge sliding-scale fees based on income. Expenses can range from $50-$125 a day.
Home-based respite care
Intermittent personal assistance typically costs $35-$50 per hour, depending on where you live. Some providers may charge a reduced hourly rate for more routine services on a weekly or monthly schedule or if you schedule support for an entire weekend or 24-hour period.
Does Insurance Cover Respite Care?
While many health insurance plans don't cover costs for respite care, there are long-term care plans that may offer assistance. If your loved one doesn't have long-term coverage, any charges not covered by insurance or other sources would need to be paid. In most cases, Medicare does not pay for long-term care, but there are some instances where it may cover respite services for you and your loved one.
State Medicaid may fund some forms of respite, depending in which state you reside. Also, the Department of Veterans Affairs may have options if your loved one is a veteran.
Contact Visiting Angels
Take the first step by learning more through a free home care consultation. Contact your nearest home care office today to see how you and your family can benefit from Visiting Angels' compassionate services.