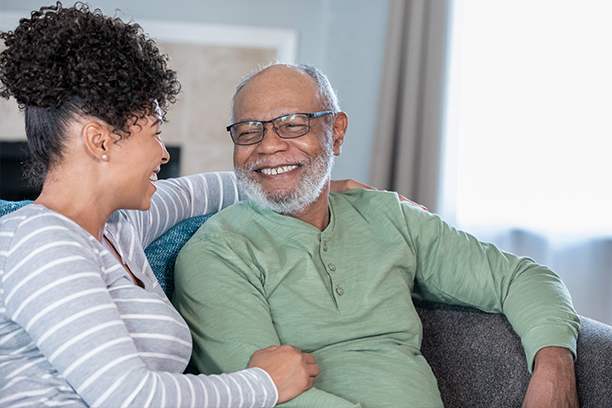 Senior Home Services in Waterbury
Does an elderly parent or relative need more support than they currently have in order to live at home in a comfortable manner while staying safe? At Visiting Angels® Woodbridge, we know that for most seniors, there comes a time when they can no longer take care of themselves without a bit of assistance. Our senior home services offer these vital forms of support for elderly individuals living in the Waterbury area. Through respectful, compassionate, and customized services that address unique needs, we make living at home a wonderful experience for seniors.
We take pride in our team of companions, who have all passed through a strict screening process and maintain our philosophy of dedicated and personalized service. Each team member has been bonded and insured and has undergone a complete background check. Even when you feel that your loved one's future is uncertain, you can always know that they are in safe hands when you get started with our senior home services in:
Waterbury
Or a community in the surrounding areas
About Our Senior Home Services in Waterbury
What have you noticed your loved one struggling lately? Perhaps cognitive decline has made their short-term memory less than reliable, or balance issues have resulted in tasks like bathing becoming dangerous. No matter what issues are causing you to question your loved one's ability to maintain their independence in Waterbury, we can help.
For example, our services frequently cover needs for assistance with everyday activities like:
Taking a shower and grooming
Getting dressed each day
Keeping track of medication timing
Engaging in social activities
Cooking meals and making a diet plan
Walking and overall mobility
Transportation and getting to appointments
Using the restroom and other sensitive tasks
Light household chores and homemaking
As our senior home services can be delivered at any time and on any day of the year, you never have to worry about your loved one being without support. As part of our process for setting up services, we can design a schedule that works best for your family and respects your loved one's established routines and habits.
How We Approach Setting Up Senior Home Services
We believe that the needs, personality, and lifestyle preferences of each senior are completely unique. It's for this reason that we ensure the way we set up services is personalized and takes into account the specific factors affecting the lives of our clients.
Take a look at the steps we will walk your family through to make sure your loved one has the advantage of services that consider every aspect of their day-to-day life:
An initial overview over the phone. During your first phone call with our local office, we can describe our senior home services in general terms and schedule a consultation to cover these topics more in depth.
A free in-home consultation. Next, we will take the time to meet with your family for a detailed conversation about your loved one's needs and your own concerns. We'll provide responses to all of your most pressing questions and will give you insight into our philosophy and flexible approach to services.
Development of a custom plan. During the consultation, we aim to begin designing your loved one's service plan while using input from you both. Included in this process will be the creation of a schedule that is ideal for your loved one.
Choosing the companion. Finally, we'll take on the task of choosing the most suitable companion for your loved one in Waterbury. You can have confidence that we will select the companion who is the best match based on personality, needs, and scheduling requests.
Learn About Types of Senior Home Services Available in Waterbury
We have a number of senior home services available for seniors who reside in the Waterbury area. You can discover some of our popular options below.
Personal Services
Personal services are designed to help seniors with advanced needs complete day-to-day tasks. This could include entering and exiting the bath, changing clothes, going up and down stairs, and more. Additionally, we can assist seniors with basic housekeeping activities and provide them with the companionship they crave.
Respite Services
If you ever feel that your caregiving duties have completely taken over your schedule, you may be past due for a well-deserved break. Respite services make this possible by allowing family caregivers to schedule time off for themselves without ever having to worry about leaving their loved ones alone or without adequate assistance.
Fall Prevention
Thanks to our Safe & Steady Fall Prevention Program, older individuals can be proactive about reducing their risk of enduring a fall at home. This program covers a fall risk assessment, customized tips, and mobility assistance for a safer experience of aging in place.
Transitional Assistance After a Hospital Stay
The weeks after a hospital discharge are often when seniors are most vulnerable. Many feel exhausted following a hospital stay and may not be ready to jump back into their independent lifestyle. With our Ready, Set, Go Home transitional services, seniors can look forward to having comprehensive help as they leave the hospital and safely recover at home.
Companionship
When basic help and social interaction is what your loved one needs most, you can turn to our companionship services. Our senior companions are passionate about building relationships with elderly adults and enhancing their lives at home through assistance with activities like cooking and running errands.
Social Assistance
Does your loved one wish they could be more tech-savvy? Our social assistance service can give them the tools they need to confidently connect with their social circle online using innovative technologies.
Get Started with Senior Home Services in Waterbury Today
To take the first step towards a senior home services solution for a loved one in Waterbury, call on our local agency at (203) 298-9700 and ask for a no-cost consultation.
Serving New Haven County, CT and Surrounding Communities
Visiting Angels
WOODBRIDGE, CT
264 Amity Rd #208
Woodbridge, CT 06525
Phone: 203-298-9700
Fax: 203-298-9677