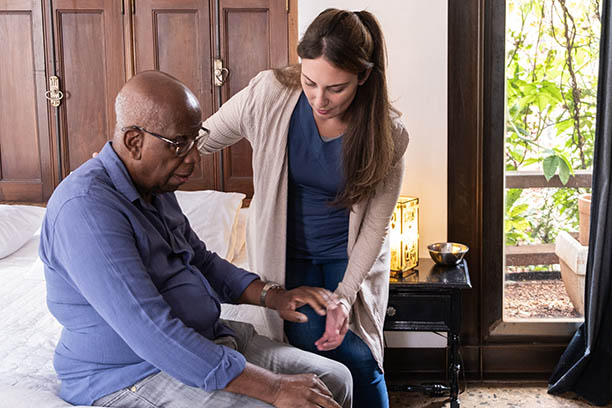 Palliative Care in Albany, NY
Each sector of care caters to a different client. Palliative care caters to any patient who needs care that's focused on their comfort or well-being. The patient could have any life expectancy.
At Visiting Angels of Albany, we want to uplift our clients and provide them with an elevated quality of life through our care program.
How Our Program Helps Seniors in Albany, NY and Surrounding Areas
In our palliative care program, we focus on maintaining a holistic mindset. We want our care to be supportive, soothing, and comforting. Through our program, we have a mission of restoring hope within our clients and assisting with the healing process.
We view every client that we care for as an individual. We always keep their physical, emotional, social, and spiritual needs in mind.
To address the client's physical needs, we recognize and respond to common signs among the elderly, while providing non-medical care to comfort our clients.

To address the client's emotional needs, we adopt a compassionate approach and support seniors who may be suffering from depression, loneliness, stress, or anxiety.

To address the client's social needs, we build relationships with our clients and their families. We also provide those in our care with companionship and conversation.

To address the client's spiritual needs, we help restore hope to seniors' lives, while helping them find comfort and relief from age-related difficulties and treating each client with dignity and respect.
Getting Started with Home Care Services
Thinking about getting started with Visiting Angels of Albany? The process is simple. First, get in contact with our office. Here, you can ask any questions that you may have about the program. To get more information, you can schedule a free in-home consultation with your loved one. At Visiting Angels of Albany, you can Select Your Caregiver, receive a personalized care plan, and enjoy a friendly, compassionate, client-centered approach on care.
Want to learn more about our palliative care services? Schedule a free in-home consultation by calling Visiting Angels of Albany today.
Serving the Capital District
Visiting Angels
ALBANY, NY
125 Wolf Road #503-1
Albany, NY 12205
Phone: 518-389-2999
Fax: 518-389-2521