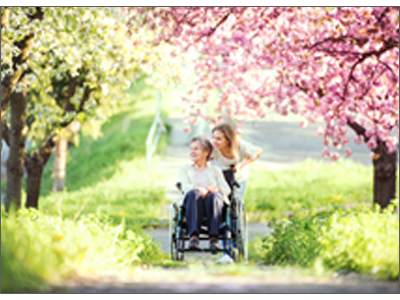 Five Benefits of Spending Time in Nature for Older Adults
Summer is a much-anticipated season. Longer days and warmer weather offer more opportunities to get outdoors and soak up some sun. Whether it's sitting out in the backyard with a cold glass of iced tea or exploring walking trails near you, finding time to enjoy the great outdoors has a lot of benefits, especially for seniors.
Older adults may be pleased to hear that they don't need to leave their own outdoor space to reap the many benefits of spending time in nature. June is National Great Outdoors Month. It reminds us to get off the couch and explore the natural beauty found in our own backyards. Experts say that anywhere between 20 to 30 minutes, three days a week is enough to gain benefits. Here are five benefits of spending time in nature for older adults.
Decreases Risk for Depression and Anxiety
Spending time outdoors reduces negative feelings, such as anger, fear, depression, and anxiety. There's just something about being outside that instantly boosts your mood. One study found that nature-based activities improved the overall well-being of older adults. In this study, participants not only experienced better sleep, but they also reported an increase in happiness after each session. If you're feeling overwhelmed, anxious, or depressed, try going for a short walk around your neighborhood. Take up gardening or simply change your environment so that you're spending more time outside.
Increases Levels of Vitamin D
Vitamin D is an essential nutrient that all older adults need. It aids in the absorption of calcium, which helps build and maintain strong bones. One of the best sources of Vitamin D is the sun. Our skin can produce large amounts of vitamin D on its own when exposed to the sun. Spending too much time unprotected in the sun can lead to sunburn or skin cancer. However, older adults can make plenty of vitamin D in as little as 8 to 15 minutes of exposure. Before you lather on the sunscreen, give your body time in the sun to naturally produce vitamin D.
Improves Memory
Spending a little time in nature can improve memory. A study conducted by the University of Michigan found that after an hour of interacting with nature, memory performance and attention span were improved by 20 percent. The effects of spending time in nature are similar to the effects of meditation. Meditation has been found to increase blood flow to the brain and improve memory. For an even bigger boost to memory, older adults should consider meditating in a natural, outdoor setting.
Lengthens Lifespan
Spending time in nature could expand your life expectancy. One study found that women who lived in or near green areas had a 12 percent lower rate of mortality than those who lived around less vegetation. Spending time in nature not only lowers stress levels, which contributes to mortality, but it also strengthens the immune system, which helps to keep older adults healthier. It also reduces the risk for Type 2 diabetes, cardiovascular disease, and high blood pressure.
Reduces Stress
Finally, spending time outdoors lowers stress. Nature has a calming effect that instantly lowers blood pressure, heart rate, and the production of stress hormones. A study published by Frontiers in Psychology found that spending just 20 minutes in nature helped lower stress hormone levels. Another study by Harvard Health found similar results. The next time you're feeling stressed, turn off the television, put down your phone, and sit in your backyard for an instant calm.
As summer approaches and the nation begins to reopen, some families are considering a summer vacation. Do you have the support you need when your family is away? Visiting Angels Appleton is here to help seniors stay safe all summer long. We offer a variety of senior home care services, including respite care services. Respite care allows seniors to receive the care and support while their family is away, giving their family peace of mind so that they can enjoy a relaxing vacation. We can then transition to weekly visits should you all find this is the perfect solution for your senior care needs. All the while, our compassionate caregivers can ensure you are spending adequate time in nature to reap the many benefits of the great outdoors. And if you're looking for a great place to explore the great outdoors, check out Horicon Marsh Wildlife Area. Getting started is as easy as contacting us by calling 920-944-8000.