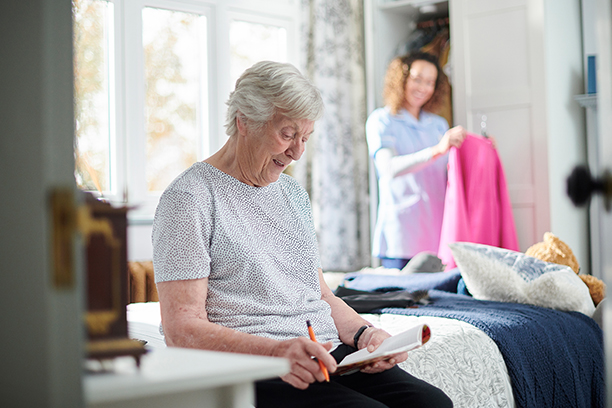 Trusted Alzheimer's Care Services in Appleton
Many things become easier with practice, but caring for an elder with memory loss does not necessarily get easier over time. In fact, the opposite is usually true, with care becoming increasingly difficult as the disease progresses. No matter what your loved one's condition is, there is never a right or wrong time to start thinking about getting professional Alzheimer's care services. Visiting Angels® Appleton WI is your neighborhood resource when it comes to high-quality Alzheimer's care services, providing trusted support to families across our community, each and every day.
When is the Right Time for Alzheimer's Care Services?
Whether your loved one's Alzheimer's is freshly diagnosed or an old familiar burden, balancing their care needs with your own, or with other work and life commitments, can be extremely difficult. So when exactly is the right time to bring in a companion caregiver into your home?
While the decision is completely up to you, there are some signs that Alzheimer's care services might benefit your loved one, including:
Trouble dealing with anger, anxiety, or violence caused by memory loss
Concern for your loved one's safety when left unsupervised
Feeling too exhausted, overwhelmed, or ill-equipped to care for your loved one
Separation by great distance, making it difficult to check in on your relative
Worrying that your loved one has become unusually socially withdrawn
How We Support Seniors in Appleton
Too often, elders suffering Alzheimer's and dementia are forced to move out of their treasured homes and into assisted living facilities. For many, losing the comfort and familiarity of their homes is devastating. However, Alzheimer's care services from Visiting Angels Appleton can make it possible for seniors who may otherwise require institutionalized care to remain safely in their own beloved homes. Our caregivers can come as often as you need, from occasional visits to round-the-clock monitoring.
How We Support Seniors in Appleton
At Visiting Angels Appleton, bringing compassionate support to elders in our community is what we do best. Our Alzheimer's care services were developed with the Alzheimer's Foundation of America, so you can rest easier knowing that the care we provide for your loved one is exactly what they need to thrive.
For a free consultation in your very own home, call Visiting Angels Appleton today and ask about our Alzheimer's care services.
Serving Outagamie County
Visiting Angels
APPLETON, WI
17 Park Place #150
Appleton, WI 54914
Phone: 920-944-8000
Fax: 920-328-0324