Home Care from Visiting Angels in Appleton WI
Welcome to Visiting Angels Appleton WI! We are a locally owned agency that provides non-medical in home care to aging and disabled individuals in the Appleton WI area. If you have a loved one who has begun to slow down, or needs a bit of assistance in order to live comfortably at home, Visiting Angels Appleton WI has caregivers who can help.
Nobody wants to be forced to move from their home and familiar surroundings as they age. Visiting Angels Appleton WI makes it a goal to help your loved one live independently for as long as possible. Even when you can't be there in person, our caring staff can make sure your family member is well taken care of and safe. We will keep you informed of your loved one's progress and the care we provide.
The knowledgeable senior care professionals from Visiting Angels Appleton WI are pre-screened, compassionate caregivers whose top priority is making your loved one feel comfortable at home. We like to put ourselves in our client's shoes and hire caregivers that we would feel confident placing in the homes of our loved ones. This is one of the reasons we have earned a reputation for having the best caregivers around.
To gain access to the knowledgeable caregivers from Visiting Angels Appleton WI, simply call our office and speak to one of our caring professionals.
Visiting Angels Appleton Receives 2018 Best of Home Care® – Provider of Choice Award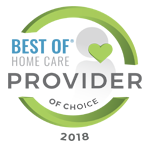 Visiting Angels Appleton announced today that it has received the 2018 Best of Home Care – Provider of Choice Award from Home Care Pulse. The Provider of Choice Award is granted only to the top-ranking home care providers, based on client satisfaction scores gathered by Home Care Pulse, an independent satisfaction research firm for home care. Visiting Angels is now ranked among a select few home care providers across the country who have proven their ability to provide outstanding care.
>>Learn More<<
Our Senior Home Care Services
The custom care plans offered by Visiting Angels Appleton WI offer an assortment of services to aging individuals. We commonly work with seniors who are coping with illnesses such as stroke, multiple sclerosis, Alzheimer's, dementia, Parkinson's, diabetes, heart disease, and cancer.
Some of the senior home care services we offer include:
Social Care - using technology to keep your loved one connected
Personal Care - help with medications, hygiene etc...
Companion Care - engaging in activities and meaningful conversation
Dementia Care - helps with reminders and household tasks
Alzheimer's Care - a more intensive form of elder care
Respite Care - provides a break for family caregivers
This is a broad overview of the services offered by Visiting Angels Appleton WI. Our plans are fully customizable so you don't have to sacrifice one service for another. When you choose a home care plan from Visiting Angels Appleton WI, you can get the services you desire. Not only that, you can get them on your schedule. With our flexible hourly rates you can adjust your loved one's plan as needed and always afford to get what you want.
We invite you to call our Appleton WI office today to learn more about our senior home care services.