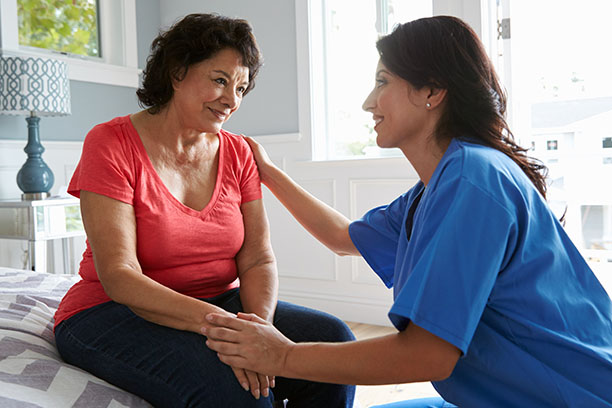 Dementia Care Services in Appleton
Dementia Care Services Offer Options
Caring for an aging parent with dementia is overwhelming, especially when doing it alone and while trying to keep them in the comfort of their home. But Visiting Angels Appleton wants you to know that you're not alone; our dementia care services are here to help you.
Visiting Angels Appleton offers an array of non-medical dementia care services that take the enormous caregiver responsibilities off your shoulders. Our caregivers provide attentive, compassionate care and companionship while allowing your parent to remain in the comfort of their home.
Personalized Dementia Care Services
Visiting Angels Appleton works with you to create a care plan that is specifically designed for your parent. Whether it's helping with household chores, preparing meals, companionship, or going to the doctor, whatever your needs, Visiting Angels Appleton is here to help.
We Care About You Too
Even the most devoted caregivers need a break from the emotionally and physically demanding care responsibilities that dementia care requires. It is essential that you take care of yourself first in order to be able to provide loving and devoted care for your parent.
Our dementia care services alleviates physical exhaustion, stress and anxiety with our flexible scheduling and numerous care options. Take comfort in knowing that your loved one is receiving attentive care from respectful, compassionate professional care providers.
Trusted Dementia Care Services Caregivers
Each of our caregivers undergoes a thorough employment screening process before being interviewed to ensure that they have the perfect combination of knowledge and intangible traits such as empathy, patience, humor, and respect. Caregivers must also pass a comprehensive background and criminal history check prior to employment. Visiting Angels Appleton offers caregivers with the opportunity to become certified in a training program created in partnership with the Alzheimer's Foundation of America.
Receive Dementia Care Services Updates
To ensure that your loved one is receiving consistent high quality dementia care services, Visiting Angels Appleton attentively monitors care providers with scheduled phone calls and home visits. Whether you live across town or across the country, you'll receive frequent updates on the care we are providing. We make it easy for you to feel confident that your loved one is receiving the attentive care and companionship they need.
Call today to learn more about Visiting Angels Appleton dementia care services.
Not all services available at all locations. Contact your local agency for details.
Serving Outagamie County
Visiting Angels
APPLETON, WI
17 Park Place #150
Appleton, WI 54914
Phone: 920-944-8000
Fax: 920-328-0324