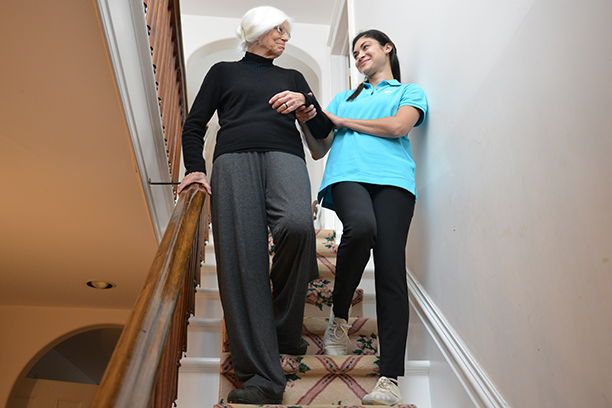 Alzheimer's Care Services in Beaver Dam
Coping with a loved one's Alzheimer's or dementia is one of the greatest obstacles a family can face. It's a disease that can pose new challenges each and every day. Often, there is no clear solution. However, Visiting Angels® Beaver Dam offers Alzheimer's care services that can truly alleviate the burden felt by families experiencing these difficulties. Our companion caregivers deliver non-medical support right to your doorstep and bring relief to both you and your loved one through our extensive Alzheimer's care services and other elder support options.
Visiting Angels Beaver Dam: Helping Seniors Stay at Home
When your loved one is afflicted with memory loss, you are required to make many changes when it comes to their care. Often, the decision of whether or not it is safe for your loved one to remain in their home is the most difficult one. On one hand, their home is where they feel most comfortable and familiar, but on the other hand, having them live at home without supervision may be too dangerous. That is why so many families consider moving their loved one into an assisted living facility. With the in-home Alzheimer's care services offered by Visiting Angels Beaver Dam, your loved one has an alternative to relocation. They can receive Alzheimer's care services, right in their very own home.
How Alzheimer's Care Services Help Manage Anger
Fits of anger are one of the most challenging curveballs that loved ones with Alzheimer's and dementia can throw for family caregivers to deal with. It is not uncommon for a frustrated or disoriented senior to become volatile or even violent, and a knee-jerk reaction from an untrained caregiver can often make the situation worse. With our Alzheimer's care services, we can protect the safety of both you and your loved one. At Visiting Angels Beaver Dam, our skilled caregivers know just how tackle tough situations with a gentle touch to keep seniors safer at home.
Visiting Angels Beaver Dam: Always There
There are few things as valuable as peace of mind. At Visiting Angels Beaver Dam, we understand that. We believe that each and every family in our community deserves to live worry-free. That's why we pride ourselves on providing affordable, reliable Alzheimer's care services to seniors in Beaver Dam, Appleton, and Oshkosh.
To learn more about what kind of Alzheimer's care services are available to you, call Visiting Angels Beaver Dam today and book your free consultation.
Serving Dodge & Columbia Counties
Visiting Angels
BEAVER DAM, WI
140 Corporate Dr #2
Beaver Dam, WI 53916
Phone: 920-821-1111
Fax: 920-328-0324