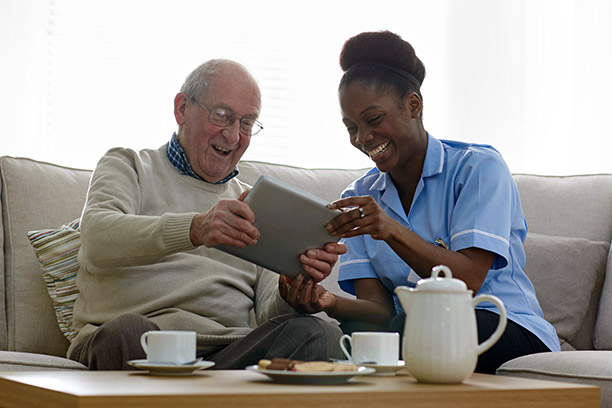 Alzheimer's Home Care for Seniors in and Around Benton, AR
When your loved one is dealing with Alzheimer's disease, caring for them on your own can be an overwhelming task. Asking for help from a professional caregiver can not only provide you with a sense of relief but can also ensure your loved one is benefiting from the comprehensive assistance they require as their condition progresses over time.
At Visiting Angels® of Benton, we are experts in all types of senior care, including specialized forms of care such as Alzheimer's home care. We are here to make sure that seniors in Alexander, Benton, Bryant, Mabelvale, and surrounding Arkansas communities have the opportunity to remain at home for as long as possible, even as they deal with challenging symptoms and circumstances.
About Our Alzheimer's Home Care Services
High-quality Alzheimer's home care requires both a dedicated care provider as well as an expert care coordinator who understands your loved one's current needs and the care requirements that are likely to arise as they continue to age in place in Benton. We will design a care plan for your loved one that takes their full range of symptoms into account, from moments of forgetfulness and anxiety to issues with mobility and coordination. We will also consider their personal circumstances and preferences to ultimately build a care plan that fits naturally into their lives and brings a sense of comfort and familiarity to each day.
Alzheimer's home care services from Visiting Angels of Benton can include assistance with daily activities such as:
Keeping track of medication schedules
Going to the pharmacy and grocery store
Making healthy meals and cleaning up afterwards
Doing light chores like laundry and making beds
Getting dressed and grooming each day
Bathing or showering and using the toilet
Dealing with confusing or emotional moments
Engaging in joyful conversation and social activities
How Visiting Angels Helps Families in Benton
We aim to make caring for your loved one less of a burden so you can avoid becoming burned out and instead focus on being there for them when they need you most. Working with one of our care providers can help you feel more optimistic about the future as you'll have time to meet your own needs for self-care during this difficult time while knowing that your loved one is in safe hands.
You can learn more about our senior care services by contacting our Benton, AR, office today to book a free consultation.


Serving Alexander, Benton, Bryant, Mabelvale and Surrounding Areas
Visiting Angels
BENTON, AR
17724 Interstate 30 Suite 4 Office 14
Benton, AR 72019
Phone: 501-321-4900