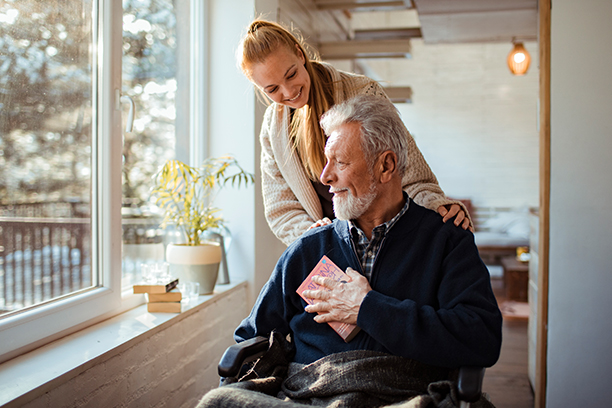 How Our Assisted Care for Seniors Can Help in Benton, AR
Assisted care for seniors is available in Benton, AR, and the surrounding areas.
Our assisted care for seniors at Visiting Angels of Benton is created to enable seniors to age in place.
As one of the country's top home care companies, we know how crucial it is for seniors to age comfortably at home. At the same time, we are aware of how challenging independent living without caring services may be.
Although most older adults like to live at home, this can be difficult. We typically lose flexibility, strength, and coordination as we age. Daily chores like cleaning the house and making meals difficult or dangerous. Many older adults thus lose their freedom.
Our caring services enable elders to stay home even when faced with severe physical or cognitive challenges. Thanks to our most popular in-home supported care services. Most seniors can age in place. For clients who require advanced care, we provide a variety of specialist services, including Alzheimer's care.
Seniors can stay in their homes with the help of Visiting Angels of Benton in safety and comfort. Your loved ones will be able to live out their golden years as they like in this fashion.
The Value of Aging at Home
According to the AARP, nearly 90% of Americans over 65 desire to live independently for as long as feasible. But without outside assistance, many older adults find it challenging to sustain their independence over time.
Seniors gain from having freedom at home on their terms in a variety of ways. Seniors who age in place benefit from living in a safe and cozy setting. Additionally, they can keep up their regular activities and pastimes. These elements may be crucial for senior citizens' emotional health.
For older adults, maintaining a home environment has significant health advantages. In communal housing settings, contagious diseases can spread considerably more quickly. According to studies, seniors who receive aided care do better than those who receive care in a facility in terms of their overall health.
Senior assisted living vs. senior assisted care
Seniors' primary alternative to supported care is assisted living. Aided living necessitates relocating to a retirement home or community, in contrast to assisted respect for elders, which allows seniors to stay in their homes.

Many seniors choose aided care for seniors over assisted living for a variety of reasons. The ability to stay at home is typically the key motivator. Simply put, few seniors prefer to live in a strange environment over one they are accustomed to.
Cost is another critical factor. A minimum of tens of thousands of dollars are spent annually on assisted living. Senior home care assistance can be obtained for a small portion of this cost, keeping care costs down for families.
Finally, many seniors wish to keep up their independent lifestyles and daily routines. Meal times and preset care plans set the pace in assisted living facilities. Goals, however, can be modified to suit the requirements and preferences of any client receiving aided care for seniors. Seniors receive the care they require in this fashion, at their own pace.
How Angels of Benton can assist
For more than 25 years, Visiting Angels of Benton has been assisting American elders to age in place.
Whatever their circumstances, older individuals can live safely and comfortably at home with the support of our assisted care for elders. We achieve this by helping elders with duties and activities that have grown challenging or hazardous for them to accomplish alone. We may aid with daily living activities, including clothing, bathing, and grooming, as well as with errands, cooking, washing, and light housework.
The companionship and discussion our caregivers offer elders help people who might otherwise be at risk of social isolation. By providing much-needed assistance to family caregivers, we also make it simpler for families to spend more time together.
Each client of Visiting Angels of Benton receives a personalized care plan to suit their requirements and preferences. Additionally, we work hard to match each senior with the ideal caregiver who possesses the perfect mix of knowledge, expertise, and compassion.
Numerous older adults have been able to live at home for longer because of our strategy. We urge you to get in touch with your neighborhood Visiting Angels of Benton agency to arrange a free consultation if you have a loved one who is in danger of losing their independence.
Do you have a family member who requires assistance with aging in place? Call the Visiting Angels of Benton office closest to you right away!
Serving Alexander, Benton, Bryant, Mabelvale and Surrounding Areas
Visiting Angels
BENTON, AR
17724 Interstate 30 Suite 4 Office 14
Benton, AR 72019
Phone: 501-300-9308