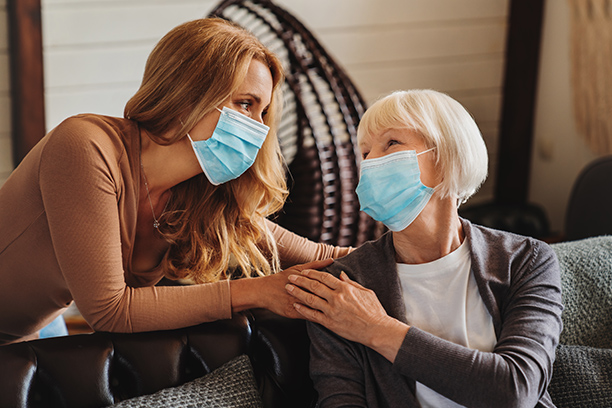 Palliative Care for Seniors in Benton, AR, and Surrounding Areas
Providing in-home care for an older loved one who is coping with a chronic sickness or condition may help them maintain their independence. Families often help their elderly relatives who live alone with mundane duties on a regular basis. Seniors who are sick, on the other hand, often need emotional support and reassurance to keep their spirits up and keep living their daily lives.
Thankfully, Visiting Angels of Benton offers in-home palliative care, so your loved one may get not only practical aid with daily activities but also the emotional and spiritual support of a sympathetic caregiver. We want to help seniors in Alexander, Benton, Bryant, Mabelvale, and surrounding areas in Arkansas remain in their own homes for as long as possible.
What is Palliative Care?
Palliative care, a service that focuses on giving pain treatment and emotional support to someone with a chronic disease, derives from the Latin word palliare, which means "to cloak." Although comparable to hospice care, palliative services are made available to anybody, regardless of their prognosis, whereas hospice care is often designated for patients with a six-month or less prognosis.
If a senior loved one of yours has been battling a chronic illness for some time, you understand the importance of lending a helping hand with everyday activities. But your loved one will benefit most from more intensive, hands-on care. The effects of your loved one's illness may extend to their emotional and social well-being. Palliative care from Visiting Angels of Benton is there to fill in the blanks, tending to your loved one's physical needs as well as their social, emotional, and spiritual ones.
Why Choose Palliative Care from Visiting Angels of Benton?
Palliative care from Visiting Angels of Benton is personalized to suit each senior client's needs, schedules, and preferences. Our caregivers are able to provide the comprehensive in-home care our clients need because they are educated and certified in non-medical palliative care. Many families in Benton, Bryant, Alexander, and Mabelvale have put their faith in us as a result of our commitment to providing exceptional care.
Our caregivers will focus on:
Physical needs
Comfort depends on meeting your loved one's physiological demands. Our caregivers can ensure your loved one has clean clothing to wear, plenty to eat, and provide regular check-ins to determine if they have any other needs during the day.
Social needs
Our caregivers will help your loved one avoid isolation and loneliness by encouraging them to take part in community events. Some examples of this kind of support include keeping your loved one socially active and engaged, and giving them with intriguing conversation and companionship.
Emotional needs
One of our key objectives at Visiting Angels of Benton is to assist seniors in having fun while yet retaining their sense of purpose in life. This could include doing things like assisting your loved one in getting ready for the day and including them in activities that they like doing in their spare time.
Spiritual needs
One of our primary objectives when providing palliative care is to assist in the restoration of hope and the calming of seniors in our care. Our caregivers do this in several ways, one of which is through showing concern for the care recipient's well-being and forming meaningful bonds with them over time.
Contact our Benton, AR office to schedule a free consultation today!


Serving Alexander, Benton, Bryant, Mabelvale and Surrounding Areas
Visiting Angels
BENTON, AR
17724 Interstate 30 Suite 4 Office 14
Benton, AR 72019
Phone: 501-300-9308