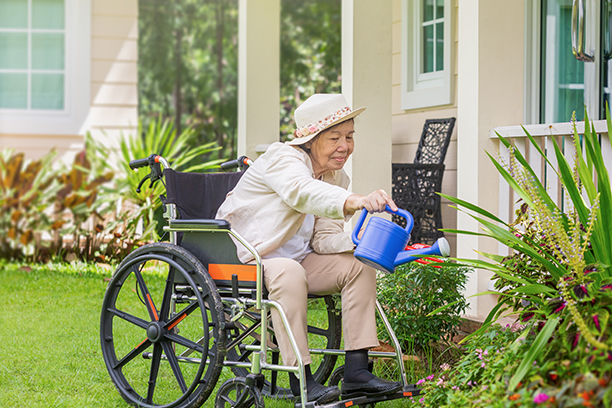 Home Care FAQ from Visiting Angels of Benton
Making a choice on what at-home services to get for a senior loved one might be difficult. When looking for the ideal home care provider, you could encounter more questions than solutions. With years of experience providing home care services to families in Alexander, Benton, Bryant, Mabelvale, and the surrounding areas of Arkansas, Visiting Angels of Benton can help you and your loved one make an informed decision. Visiting Angels offers no-cost, no-obligation in-home consultations and evaluations to assist you through the process and bring peace of mind.
Visiting Angels of Benton has provided answers to some of the most frequently asked questions we get from families about our at-home services.
How Can Seniors in Benton and Nearby Areas Benefit from At-Home Services?
Hiring a professional in-home caregiver from Visiting Angels of Benton has numerous advantages for elderly adults, including the ability to age in place and the ability to maintain independence.
Some of these advantages include:
Your family member may stay in their own home as they age with the aid of individualized in-home care
A convenient timetable that won't interrupt their regular activities
Companionship and help with Activities of Daily Living (ADLs) to prevent loneliness and social isolation.
Reduced expenses compared to those of a nursing home or comparable institution
Families may rest easy knowing their loved one is being cared for by a trusted professional who will keep them updated
What Does "Aging In Place" Mean?
Being able to "age in place" means maintaining one's independence and quality of life while residing in one's own home, the home of a close family or friend, or a residential care facility.
How is Home Care Different from Home Health Care?
Health services provided in the comfort of one's own home by a licensed medical professional such as a nurse, PT, or OT is known as "home health care." Home care mostly entails assisting the client with their own personal care duties that they are unable to do on their own.
Visiting Angels of Benton does not provide home health care services and hence cannot help with things like medication administration or wound dressing changes. However, our at-home services may give your loved one with company and help with activities of daily living including bathing, dressing, preparing meals, moving about the house, and running errands.
What Home Care Services Does Visiting Angels of Benton Offer?
Visiting Angels of Benton provides a variety of personal care and companionship services to help your aging loved one remain independent and comfortable in their own home.
What we provide as part of our at-home services for seniors:
Making meals
Simple cleaning duties
Medication reminders
Provide assistance in maintaining personal hygiene
Mobility and ambulation assistance
Incontinence care
Running errands
Help with Transportation
And so much more
Also, our Senior Life Care Navigation program offers specialized services like care for people with dementia, palliative care, end of life care, and more.
Can Visiting Angels of Benton Help Seniors with Alzheimer's and Other Medical Conditions?
Seniors with Alzheimer's and similar medical conditions benefit greatly from the high-quality at-home services provided by our caregivers. Whether your loved one needs assistance with personal care, meal preparation, housekeeping, or errand running, Visiting Angels of Benton is here to help.
Most of our caregivers have personal or professional expertise with Alzheimer's care and similar conditions, and some have even gone so far as to get specialized care certifications from established organizations. Our "Caregiver University" is dedicated to providing specialized training for those who care for patients with chronic conditions including diabetes, heart failure, and Alzheimer's. In the event that a coordinator notices any alarming changes in your loved one's condition, they will get in contact with you.
Can Caregivers Provide Support in Residential Senior Living Communities?
Older adults in assisted living facilities may rely on Visiting Angels of Benton's senior care services. Workers at assisted living facilities often have more than one elderly patient under their care at a time. Some families decide to hire a professional caregiver to supplement the help from facility staff in order to guarantee that their loved one gets the right amount of care at the right times.
Your family member may be able to continue receiving the same high quality care for a longer time with the assistance of a caregiver from Visiting Angels of Benton. Having a trained caregiver on hand will lessen the likelihood that your loved one will be moved to a more expensive and dependent section of the facility.
How Can I Get Started with At-Home Services from Visiting Angels of Benton?
As a first step in working with Visiting Angels of Benton, we recommend scheduling an appointment with our care coordinator to go through your concerns, ask any questions you may have, and receive an overview of the many at-home services we provide.
If you decide to employ one of our caregivers to take care of your elderly loved one, we will offer a free in-home consultation and care plan describing the at-home services we will provide.
If you hire Visiting Angels, they'll select a caregiver that meets your loved one's needs and is available when they are. Your caregiver will begin working for you and your loved one as soon as you are both satisfied with their qualifications and demeanor.
What if I Need to Adjust My Loved One's Schedule?
Changes may be made to the home care schedule as necessary. The plan is meant to help your family, not our agency. Although Visiting Angels of Benton requests a week's notice for any permanent changes to a client's schedule, the organization is understanding of the need for last-minute alterations when they are necessary. No matter how urgent your situation is, our planners will do their best to accommodate your preferred schedule.
Can I Change My Loved One's Caregiver?
Visiting Angels of Benton understands that the first step in delivering high-quality at-home services for seniors is to choose the ideal caregiver for each individual client. An experienced care coordinator will get to know your family member via the Select Your Caregiver program and then provide a tailored suggestion for a suitable caregiver.
Your aging loved one and their in-home caregiver may need some time to get into a routine together. But if you ever feel that the caregiver isn't a good fit, you may always talk to the coordinator about getting a new one.
What if I No Longer Need At-Home Services from Visiting Angels of Benton?
If you decide you no longer need at-home services from Visiting Angels of Benton, we ask that you give us two weeks' notice. If you need to cut down on the number of hours or days your senior loved one receives care, you have the option to do so permanently with as little as one week's notice.
Have more questions? Contact our Benton, AR, office today!


Serving Alexander, Benton, Bryant, Mabelvale and Surrounding Areas
Visiting Angels
BENTON, AR
17724 Interstate 30 Suite 4 Office 14
Benton, AR 72019
Phone: 501-321-4900