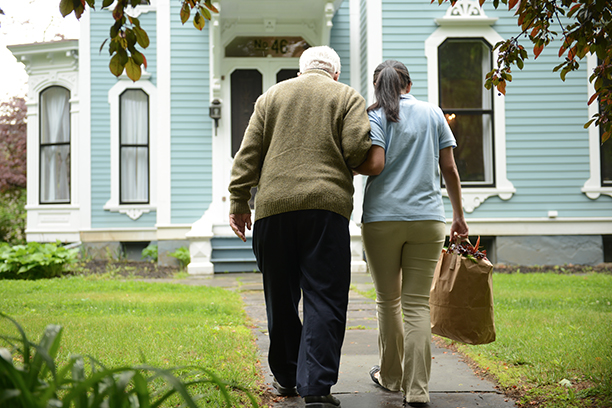 How Transitional Care in Bethlehem Reduces Hospital Readmissions
Ready-Set-Go Home with Transitional Care
At Visiting Angels® Bethlehem & Northampton, we offer a transitional care program designed to facilitate a smooth transition from hospital to home. Our services help reduce seniors' risk of a hospital readmission and give them the care and support they need to make a successful recovery following a hospital stay.
Why is Transitional Care in Bethlehem Important?
Roughly 20% of seniors on Medicare return to the hospital within 30 days of being discharged. Unfortunately, elderly adults have a much lower chance of fully recovering if they are re-hospitalized during the month after a discharge. For this reason, preventing circumstances that could lead to a readmission is crucial.
Many re-hospitalizations can be avoided simply by following doctors' instructions. However, seniors often lack the energy and physical mobility to complete even the most basic of tasks on their own after a serious injury or illness. In order to follow doctors' orders as they recover, they typically need the dedicated support of a caregiver.
How Visiting Angels Bethlehem & Northampton Supports Seniors
Our transitional care program is designed to give seniors much-needed support during and after a hospital discharge, thus increasing their odds of making a recovery. As we customize our services to accommodate the needs and circumstances of each client, we go the extra mile to fit seamlessly into seniors' day-to-day lives.
Here are the major steps we take as part of the Ready-Set-Go Home program:
Assistance at the Hospital. We begin working with the senior and their family before the discharge even occurs. Our caregivers assist with the discharge planning process and provide valuable information on what to expect, preparing seniors for the mental and physical realities of returning home.
In-home assistance. The next step is in-home care to promote seniors' comfort and safety as they embark on the road to recovery. Caregivers also act as an extra pair of eyes and ears at the senior's home, remaining on the lookout for indicators of significant changes in the care recipient's physical or cognitive well-being. In addition, our care providers help prevent family caregivers from becoming overwhelmed during this stressful period.
Assistance from our local office. Behind the scenes, our staff members work to support caregivers, seniors, and their families. Our office has access to essential tools that help identify high-risk clients and manage logistical details.
Could your loved one in Bethlehem, Northampton, or a nearby community benefit from professional transitional care services? Reach out to Visiting Angels Bethlehem & Northampton today to request more information and book a free consultation.
Serving Bethlehem, Northampton and surrounding Lehigh Valley
Visiting Angels
BETHLEHEM & NORTHAMPTON,PA
35 E Elizabeth Ave
Bethlehem, PA 18018
Phone: 610-253-6353