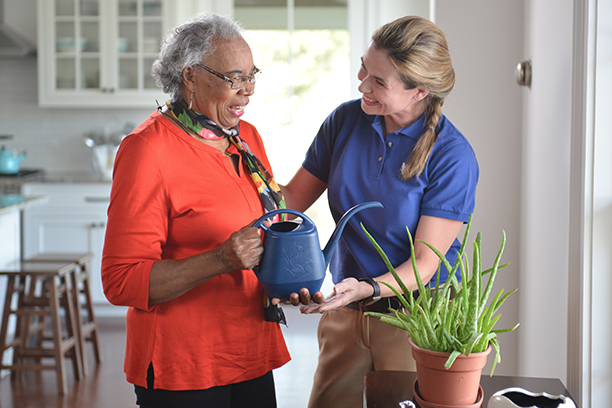 Respite Care in Bethlehem
At Visiting Angels® Bethlehem & Northampton, we offer professional respite care services that give family caregivers time off from their duties as well as much-needed peace of mind. With the help of our caregiving team, concerned family members can have confidence their loved ones are receiving high-quality care at all times.
Our range of services and at-home care programs accommodate different needs and scheduling preferences. For example, we offer temporary, part-time, and support service plans to ensure family caregivers have the precise level of assistance they require to maintain a balanced lifestyle.
Compassionate Respite Care Services
At Visiting Angels Bethlehem & Northampton, we know all too well how easy it is for family caregivers to take on too many responsibilities. As you want the best for your loved one, you may believe only you can provide the compassionate, personalized support they require.
However, at some point you may realize your loved one's care requirements are more than you can handle on your own. While they only needed a helping hand around the house early on, they now require walking assistance, constant reminders, support with personal care routines, or other forms of advanced care.
With so much on your plate, you may find you simply don't have time for other priorities in your life anymore. At this point, you may be at risk of experiencing the mental, emotional, and physical effects of caregiver burnout.
Our professionals can provide the relief you're looking for by sharing the burden of caregiving. You can plan a vacation, schedule more time for self-care, or finally make other relationships a priority when you know you can rely on our care providers to assist your loved one.
Respite Care Options for Bethlehem Area Families
We offer flexible scheduling options that make building a customized care program simple and straightforward.
You'll have the opportunity to take advantage of different forms of respite care for the Bethlehem area such as:
Temporary Care. We'll care for your loved one while you're away for an extended period of time.
Part-Time Care. One of our caregivers can visit on an ongoing basis so you can pencil in time for yourself each week.
Support Care. We work alongside family caregivers through this cooperative care system.
Bethlehem's Respite Care Specialists
We're honored to have the chance to make a positive difference in the lives of families across our community. Our care agency is both locally owned and operated, meaning we're invested in the quality of life and well-being of our friends and neighbors in the local area.
Families in Bethlehem, Northampton, and nearby towns are welcome to inquire about our services and schedule a free consultation with our care coordinators.
Contact Visiting Angels Bethlehem & Northampton today to get started with your no-cost, no-obligation respite care consultation.
Serving Bethlehem, Northampton and surrounding Lehigh Valley
Visiting Angels
BETHLEHEM & NORTHAMPTON,PA
35 E Elizabeth Ave
Bethlehem, PA 18018
Phone: 610-253-6353