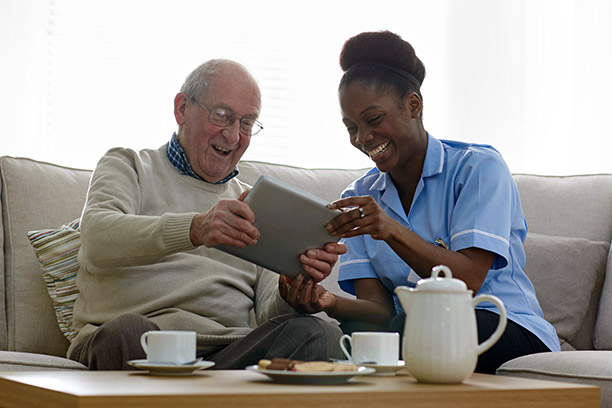 Alzheimer's Care Services in Bethlehem
Many families become overwhelmed in the face of Alzheimer's, and it isn't any wonder why. There are all kinds of new things to keep track of on behalf of their loved one, like medications and doctor appointments, in addition to having to take extra precautions for their physical safety. On top of that is the emotional roller coaster that memory loss places each family member on. Without help, it can all become too much to handle, but with skilled assistance from the Alzheimer's care experts at Visiting Angels® Bethlehem, it can be made manageable. Our care services make it possible for seniors in Bethlehem, Northampton, Nazareth, Hellertown, Fountain Hill, Wind Gap, Bath, Freemansburg, and Walnutburg to age comfortably at home with Alzheimer's.
How Alzheimer's Care Helps Seniors in Bethlehem
The onset of Alzheimer's is different for each family. Sometimes it is sudden and requires significant support for the seniors. Sometimes it's more gradual and the senior's needs are less demanding. No matter the level of Alzheimer's care they require, Visiting Angels Bethlehem will always put your loved one's dignity first. Our skilled and sensitive caregivers excel in providing the kind of care that not only meets their needs, but maintains their independence as well.
Some of the Alzheimer's care services we provide at Visiting Angels Bethlehem include:
Reminders for medications and appointments
Monitoring at home to prevent accidents
Transportation to doctor appointments and on errands
Quality companionship to lift their spirits
Respite & support for family caregivers
Dignified assistance with hygiene and grooming
Strategies for safely managing emotional outbursts
Learning More About Alzheimer's Care in Bethlehem
If your loved one has recently been diagnosed with Alzheimer's or dementia, your head is likely still spinning with questions. Visiting Angels Bethlehem offers a free and convenient way to get answers through our in-home consultations. There won't be any pressure to make decisions at that time, just an opportunity to learn about the Alzheimer's care strategies we developed hand-in-hand with the Alzheimer's Foundation of America, and how it could help uplift your loved one in Bethlehem. In the hands of our caregivers, our services can bring not only essential assistance, but comfort, relief, and hope to your whole family in Bethlehem.
To schedule a cost-free consultation on our Alzheimer's care services, call Visiting Angels Bethlehem today - 610-253-6353.
Serving Bethlehem, Northampton and surrounding Lehigh Valley
Visiting Angels
BETHLEHEM & NORTHAMPTON,PA
35 E Elizabeth Ave
Bethlehem, PA 18018
Phone: 610-253-6353