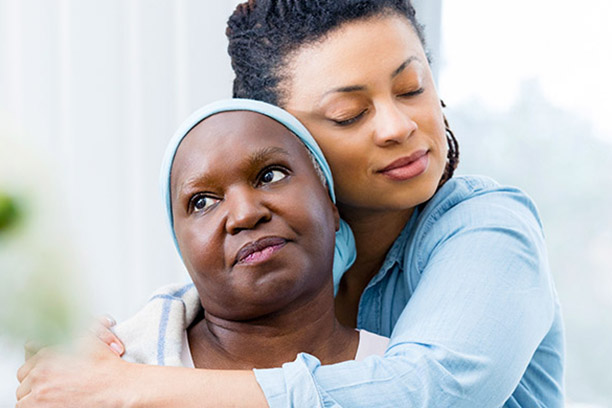 End of Life Care in Colchester, VT and the Surrounding Area
End-of-Life Care: Providing Comfort and Support to Families in Burlington, Shelburne, and Nearby Cities
One of our top goals at Visiting Angels of Vermont is to continue improving our client's quality of life as much as possible. Our caregivers constantly go above and beyond to provide physical and emotional support through our end-of-life care program to those suffering from a terminal illness.
Our caregivers provide physical and emotional support for your loved ones during end-of-life care, so you do not have to worry about your loved ones getting the care they deserve.
Although passing is a normal part of the circle of life, we realize this is an extremely difficult period of life for both seniors and their families. This is why it is so important that families have access to compassionate and caring home care services. However, end-of-life care is often overlooked, and most caregivers and healthcare providers do not receive in-depth training on this subject.
At Visiting Angels of Vermont, we strive to help improve the quality of life for your loved ones during this difficult transition. Our caregivers will do everything possible to make your loved ones comfortable. Our care program does not include hospice care, but our care team is trained to work with and alongside the hospice team.
What is End of Life Care?
End of life care is required when a family member is diagnosed with a limited life expectancy and often requires an intense amount of care to help them cope with the physical and emotional side effects. End of life home care is typically preferred as seniors tend to feel more comfortable in their own homes than hospitals. However, the responsibility of taking care of these seniors often falls of close friends and family who may not be able to time or energy to accommodate the needs of their loved ones.
Visiting Angels of Vermont is here to help give your loved one the assistance needed during these difficult transitioning times. We offer sincere and compassionate support to those in need through our Life Care Navigation™ collection of senior care services. Our caregivers and thoroughly trained to provide top-notch service and support to clients and their families. Our Practical Care Tips for End-of-Life Care Program outlines our philosophy and approach to care.
Here at Visiting Angels of Vermont, we offer a client-focused approach. This means our services are revolved around making your loved one's comfort and well-being our number one priority. Caregivers provide essential personal home care services to help:
Minimize pain and other symptoms
Assist with personal tasks such as dressing, bathing, and daily hygiene
Alleviate feelings of loneliness, stress, and anxiety
We also realize how important it is to ensure family and friend caregivers get the respite and assistance they need. Our caregivers assist with various tasks such as meal preparation, bathing, dressing, and daily tasks needed to maintain a household. We provide an anchor of support that family caregivers can turn to when they feel overwhelmed and offer emotional support and assistance whenever needed.
Schedule your Free In-Home Assessment Today
Schedule your free in-home assessment today by contacting Visiting Angels of Vermont at 802-862-8777.
Serving Burlington, Colchester, Montpelier, St Albans, and nearby areas
Visiting Angels
VERMONT
78 Severance Green #106
Colchester, VT 05446
Phone: 802-862-8777
Fax: 802-862-2788