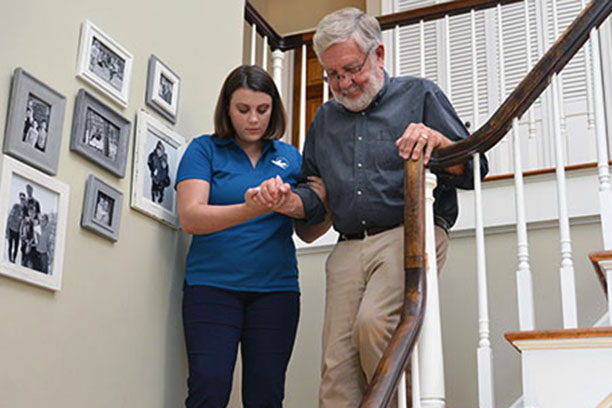 Elder Assistance Helps Seniors in Burlington, VT Prevent Falls
Visiting Angels Burlington is here to assist seniors and their family members with fall concerns with our Safe and Steady Fall Prevention Program. Our team works diligently to reduce the chance of their senior clients falling or tripping in the home. With this type of elder assistance, seniors can reduce the risk of hurting themselves, leading to not losing their independence. We believe that fall prevention is an essential part of aging in place.
Why Fall Prevention for Seniors is Important
Visiting Angels are determined and committed to keeping seniors living comfortably in their own homes, and we want our clients to feel safe and happy while receiving care. Because of this, we have ingrained fall prevention into our work DNA. Seniors are more likely to take a nasty fall than a younger adult; 1 in 3 seniors experiences a severe fall yearly. Multiple reasons and risks factors lead to these falls, such as:
Decreased strength
Poor coordination
Limited mobility
Reduced eyesight
Hearing loss
Stiff or painful joints
Health complications
Cognitive disorders
Multiple medications
When seniors take a fall, they become more likely to also suffer from a severe injury-- most of the time, these injuries have life-altering or life-threatening side effects. The most common are hip fractures. The recovery period for this kind of injury is up to 12 months long. It may also require transitional care to help adjust to life with the life-threatening complications that come with it. Most seniors never fully recover from a hip fracture, leaving them to lose their independence.
Thankfully, most falls are preventable with elder assistance programs like our Safe and Steady program. A caregiver can be present to help reduce the risk of falling in the home—the most common location for slips, trips, and falls.
How to Prevent Falls at Home for Seniors
Research has shown that more than 75% of seriously damaging falls occur in or around the home-- this means that most falls can be prevented by taking precautions at home. Visiting Angels Safe and Steady Fall Prevention Resource Guide is useful when identifying risk factors around the house.
This guide includes critical information about:
Lifestyle changes that can further reduce fall risks for seniors
Physical, social, and emotional health impacts of falls by the elderly
Precautions you can take to eliminate fall risks from the home
Environmental risk factors that increase the likelihood of falls at home
Design changes that can reduce seniors' risk of an at-home fall
This guide also includes a list of simple home modifications that can be made around the home to reduce the risk of falling. The guide also offers a 59-point home safety checklist.
Get Started with Visiting Angels
Our home care services also include fall prevention; our caregivers work hard to reduce their clients falling risks in multiple ways, all depending on the chosen home care. Our companion care services assist clients with maintaining their homes and with day-to-day tasks. If your loved one's health status puts them at risk for falls, our care services can help with dressing, bathing, and mobility.
Fall prevention is also essential to several other Visiting Angels elder assistance programs, including our Alzheimer's care, dementia care, and Ready-Set-Go Home transitional care services.
Ready to get started with elder assistance and fall prevention?
Schedule your free in-home assessment today by contacting Visiting Angels of Vermont at 802-862-8777.
Serving Burlington, Colchester, Montpelier, St Albans, and nearby areas
Visiting Angels
VERMONT
78 Severance Green #106
Colchester, VT 05446
Phone: 802-862-8777
Fax: 802-862-2788