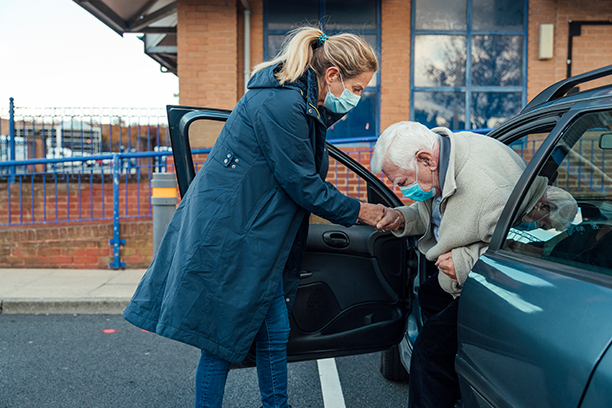 In-Home Dementia Care for Seniors in Burlington, NC and Surrounding Areas
Visiting Angels® to care for dementia patients helps clients with early, mid, or late-stage dementia. Our services, alongside our Alzheimer's care services, offer in-home services to clients suffering from conditions such as vascular dementia, Lewy body dementia, or Huntington's disease.
Visiting Angels Burlington helps local adults and seniors continue to live comfortably and safely in their homes while living with dementia. Our care plans are personalized for clients with cognitive disorders, and we tailor our home care to our client's specific and individual needs. Visiting Angels Burlington will match your loved one to a compassionate and dedicated caregiver or team of caregivers.

Dementia care also provides relief and support to care for their loved ones with dementia. If you are a caregiver for a loved one with this disease, we can make caregiving more manageable and less overwhelming. This way, you can dedicate time to yourself and other family members.

Our Dementia Care Services
Alzheimer's and dementia care are usually treated as the same thing—which is not necessarily true. Alzheimer's is the most common type of dementia, but it is not the only type of dementia.
Other types of dementia do include conditions such as vascular dementia, frontotemporal dementia, and Creutzfeldt-Jakob disease. These all share a handful of symptoms of Alzheimer's, but they also offer their unique challenges. Each type of dementia has a different cause, which leads to a variety of symptoms that causes them to progress differently.
We can tailor our care services to your loved one's dementia diagnosis. We work to make it easier to manage the unique challenges of different dementia. Our dementia care services include specialized care plans for individuals with:
Vascular dementia
Frontotemporal dementia
Lewy bodies dementia
Creutzfeldt-Jakob disease
Huntington's disease
Parkinson's disease dementia
Young-onset dementia
Mixed dementia
Down syndrome
Other types of dementia
We offer one-of-a-kind care plans for each client tailored to meet each client's conditions and needs—leaving care consistent with their diagnosis. These plans are customized to make daily life as comfortable and enjoyable as possible.
Getting Started with Visiting Angels
Visiting Angels offer care for dementia that is made to find the best caregiver and services for your loved one.
Once you reach out to our office, we will schedule a free, no-obligation consultation that will help us learn more about your loved one's situation in detail, laying the foundation for their plan. We will then also answer any lingering questions you may have about our dementia care.

We will discuss your loved one's care schedule during this consultation and create an initial care plan. Your loved one can receive part-time, full-time, or 24/7 caregiving that is based on your loved one's pre-established routines. We also will be able to schedule care around any loved ones that offer care visits regularly. After the consultation, our team will continue to develop a perfect care plan. In most cases, we will seek your loved one's doctor's opinion for care. With this information, we can finalize your loved one's care plan. For example, we can plan and prepare meals according to nutrition recommendations provided by your loved one's doctor.
The last step in this process is matching your loved one with one of our qualified and skilled caregivers. We understand how important client-caregiver relationships are—which is why we only offer care for dementia from skilled, knowledgeable, and compassionate caregivers. We screen each provider before placement and will work with you closely to find the right fit.
Getting Started with Visiting Angels Burlington
If you'd like to learn more about in-home dementia care for seniors, contact Visiting Angels Burlington and schedule a free consultation with our care coordinator. We can meet with you at your loved one's home to learn about their memory care needs and gather information. After speaking with your loved one and yourself, we will create a personalized care plan to assist your loved one. Services are available on any day, at any time, to suit your loved one's scheduling needs.
To learn more about our home care services for seniors with dementia, call our Burlington, NC office today at 336-360-6043 and speak with a knowledgeable care coordinator.
Serving Alamance County - Burlington, Mebane, Graham, Elon, and Haw River
Visiting Angels BURLINGTON, NC
2602 Eric Lane Suite C3
Burlington, NC 27215
Phone: 336-360-6043