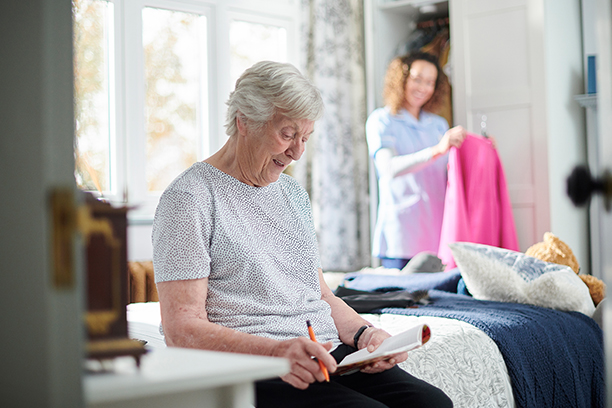 How We Assist With Aging in Place in Burlington
As seniors grow older, aging in place can prove to be quite challenging. Older individuals who are losing their mobility, balance, and strength often find it difficult to complete basic activities that once felt like second nature. As a result, they may become unable to look after their own well-being. Without the help of an in-home care provider like Visiting Angels® Burlington, many members of this age group have to make the difficult decision to move to an assisted living facility.
The Importance of Aging in Place For Burlington Area Seniors
Aging in place is the preference of the vast majority of elderly adults for a reason. Living in one's own home offers a sense of stability and comfort. By maintaining their autonomy at home, seniors can enjoy the lives they've built for themselves over many years. They can also embrace the flexibility and spontaneity of choosing their own schedules and building their own routines. After all, it's the small things in life that truly matter.
In-Home Care vs. Assisted Living
Assisted living differs from in-home care in many ways. For one, seniors who live in a nursing home or senior care center are frequently required to relinquish their independence in favor of following a pre-determined schedule. Such a loss can come at quite a cost, too. Care in a facility setting can total tens of thousands of dollars per year, a price tag that often places a significant burden on families.
There are also health concerns to consider when choosing between assisted living and in-home care. Evidence from recent studies shows elderly adults who receive care at home often have better health outcomes than those who reside in shared living facilities.
How Visiting Angels Burlington Helps Families
With in-home care delivered by a dedicated care provider, your loved one can have confidence about the aging process. Our caregivers go the extra mile to not only provide the physical assistance elderly adults regularly require, but also to offer companionship and emotional support. That way, seniors can continue going about their daily rhythms at home while minimizing their risk of social isolation.
Each of our care recipients receives a personalized care plan tailored to their unique lifestyle and care needs. We also aim to find the perfect caregiver match for every senior, ensuring they feel comfortable with the process of in-home care from day one.
Don't hesitate to learn more about the benefits of aging in place in Burlington, Graham, Elon, Mebane, Alamance County, and communities in the surrounding areas. Contact Visiting Angels Burlington to get started with a no-cost consultation for your loved one.
Serving Alamance County - Burlington, Mebane, Graham, Elon, and Haw River
Visiting Angels BURLINGTON, NC
2602 Eric Lane Suite C3
Burlington, NC 27215
Phone: 336-360-6043