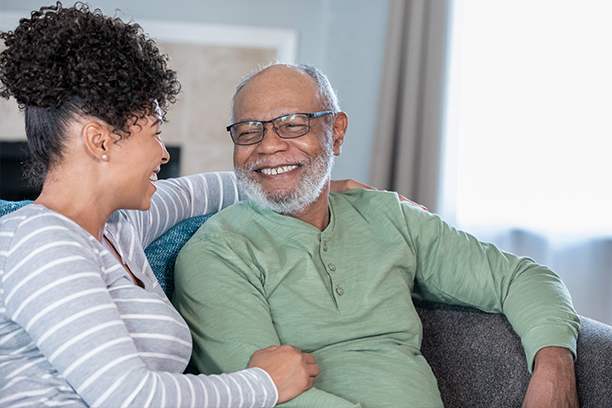 Personalized In-Home Care for Alzheimer's in Burlington, NC and Surrounding Areas
Our in-home care for Alzheimer's can help seniors and families in Burlington, Mebane, and Nearby Cities
It can be overwhelming when caring for a loved one with Alzheimer's disease, and no one understands this more than us at Visiting Angels®. We offer personalized in-home care for Alzheimer's that gives patients the care they need to age in their homes. You will also receive the support that you need while caring for your loved one.
Our team will keep your loved one living at home safely and comfortably, even when they are in the later stage of their disease. It can be confusing and disorienting for patients to move as their condition progresses. It is best to keep your loved one aging in place as long as possible, letting them enjoy a familiar environment. Compassionate in-home care for Alzheimer's offered by Visiting Angels provides your loved ones with the opportunity to remain in the place they are most comfortable in.
Our in-home care for Alzheimer's also offers much-needed support and relief to family caregivers. We understand that caring for a family member can take an exceptional level of skill, effort, time, and compassion. This can be a hard responsibility to take on, especially as the disease reaches the later stages.
With our services, we can make caring for your loved one less overwhelming and stressful. With these services, you can let go of the fear of caregiver burnout—giving you more time to spend with your loved one at the moment that matters.
Alzheimer's Care Services
Caregivers and expert care are the best way to receive proper care. Alzheimer's is a memory disorder, but its symptoms extend to several other areas. Moments of forgetfulness and confusion are two common symptoms. Additionally, they may experience a change in personality and emotional well-being. As their disease progresses and reaches its later stages, they may need assistance with their activities of daily living, such as dressing and bathing.

Our team designs comprehensive plans for in-home care for Alzheimer's that address these challenges. We search and find clients with caregivers who have the skills, knowledge, and qualifications to provide our clients with the specialized care they deserve. Our plans are made to reach and manage all the unique challenges and circumstances for each client.

When you choose to have a Visiting Angels caregiver provide your loved one with care, they can also receive a wide range of tasks and activities.
Our Alzheimer's care includes:
Monitoring and companionship
Wandering prevention
Managing moments of confusion, anxiety, and anger
Accompaniment to appointments
Medication reminders
Laundry and light housekeeping
Meal planning and meal preparation
Grocery shopping and prescription pickups
Help with dressing and grooming
Assistance with bathing and toileting
Mobility and transfer assistance
We offer our care services on a part-time or full-time basis; we also offer 24/7 care, temporary care, and respite care.
Our in-home care for Alzheimer's and other various types of dementia. We have dementia care services designed for those suffering from vascular dementia, Lewy body dementia, Creutzfeldt-Jakob disease, and other memory disorders.
Getting Started with Visiting Angels Burlington, NC
Visiting Angels understands that it is difficult to discuss Alzheimer's care with family members, as well as it can be overwhelming to search for the correct care provider. Because of these concerns, we have been encouraged to do whatever it takes to make this process as easy as possible for you and your family. Once you contact us to ask about in-home care for a loved one, we will take the first step of setting up an in-home consultation. Through this consultation, we will learn more about your loved ones and their needs in deeper detail. We also take time to learn about their routines and enjoyed activities. After getting the information we need, we will then set aside time to answer any lingering questions you may have about us and our care approach.

Afterward, our team will create a detailed care plan and schedule for your loved one. During this phase, we may reach out to your loved one's doctor to keep care consistent with medical directives. Similarly, we will work alongside the family to make our care plan schedule for any routines your loved one follows.

We also match your loved one with qualified Visiting Angels caregivers. We carefully screen each of our caregivers before placement—we do the work to find the perfect caregiver for you and your loved one for in-home care for Alzheimer's.
Learn More About Our In-Home Care for Alzheimer's in Burlington, NC
If you are unsure of something or generally just need more information, feel free to contact us. We offer free assessment and consultation to find out if Alzheimer's care is right for your loved one. You pick the time and place that's most convenient for you.
If you'd like to learn more about Alzheimer's in-home care options from Visiting Angels Burlington, NC contact our office at 336-360-6043 today.
Serving Alamance County - Burlington, Mebane, Graham, Elon, and Haw River
Visiting Angels BURLINGTON, NC
2602 Eric Lane Suite C3
Burlington, NC 27215
Phone: 336-360-6043