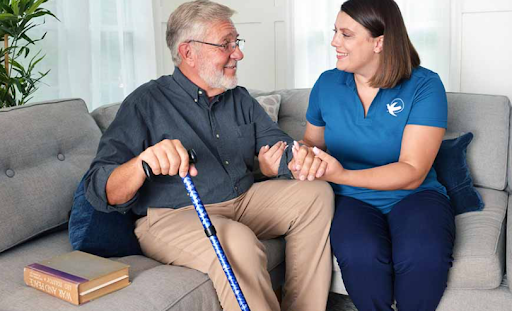 At-home alterations to make aging in place safe and accessible
Aging in place is an attractive option, but it can be hard to manage on one's own. Familiar environments with long-time beloved family treasures and belongings can be a sense of comfort and stability in an aging adult's life. With age, however, comes declining mobility and an increasing need for healthier habits. Luckily, it is more accessible than ever to age in place while living alone with the help of in-home caregivers.
According to the AARP, more than three-quarters of U.S. adults age 50 and older want to stay in their current homes for as long as possible. If you or your loved one are dedicated to staying in the home you love, there are some adjustments you can make to your living environment to make it safer, more accessible, and a more successful environment to nurture you through your senior adult years.
With the help of a family caregiver or an in-home caregiver, these simple alterations to your home can ease the daily strain and minimize the risk of serious injury.
Search for safety hazards
Falls are a significant hazard for older Americans, causing millions of injuries and 32,000 deaths a year, according to the Centers for Disease Control and Prevention. Falling causes more than 95% of hip fractures, and women notably account for three-quarters of those injuries.
Tripping hazards can be found all over the average home. Area rugs can easily get caught on shuffling feet or create an uneven surface, so they should be removed from the space to create an environment to move around in easily. Slippery wood and tile surfaces, especially those that may get wet such as a laundry floor or outdoor entryway, should be modified with no-slip strips or non-skid mats. Anticipating the situations that could arise from a wet or messy floor will help keep your loved ones safe on their feet.
The boundary between rooms where tile or wood transitions to carpet also represent the challenge of an uneven surface and changing grip for shoes or feet. Mark this area with something to remind you of a potential hazard, such as bright orange tape. This easy fix will remind anyone passing through to be extra careful with their step.
Add built-in assistance where you can
Handrails are a convenient way to help aging adults navigate stairs or slippery surfaces. If there are steps into the entryway to the home, a handrail will ensure that your loved one can enter their home safely, even in harsh weather conditions. Another handrail in the bathtub will help your loved one step over the side of the tub, stabilize themselves on a wet surface for a shower, or lower themselves into a bath.
Pay attention to those sticky doorknobs or faucets that you've grown used to over the years. Those who require excess force to use or unstick may no longer be suitable for easy access. Doors that easily open and close will help aging adults stay steady on their feet, preventing falls from struggling with a stuck entryway.
When facing any of the situations mentioned, additional lighting such as hallway night lights or glowing light switches can be helpful, especially for aging adults who struggle to see in the dark. Several wall-plug night lights have sensors that trigger them to flicker on once the room is no longer brightly lit, providing some automatic, additional lighting when the sun starts to set.
A growing trend across the country
Home conversions have been in high demand recently, according to a recent survey by the AARP. A third of U.S. adults polled in June and July 2021 expect that they will have to modify their current residence so that they or a loved one can age in place. The most sought-after modifications were:
79% bathroom safety features, such as grab bars or no-step showers
71% accessibility features, such as a ramp, chairlift or wider doorway
61% emergency response system
48% smart-home devices, such as a doorbell camera or voice-activated assistant
38% improved exterior lighting
29% improved interior lighting
How we can help
Visiting Angels Chadds Ford offers in-home caregivers ready to help you age in place safely and comfortably in Central and Southern Delaware County and Southern Chester County. A caregiver can help point out areas of the home that are unsafe and may need modification to be used. These changes can be discussed in a free in-home consultation with a caregiver where you can express the needs of you or your loved one and assess what is needed to age in place safely and comfortably. To schedule a consultation and learn about the various other options available to you through in-home care, reach out today at (484) 770-8479.