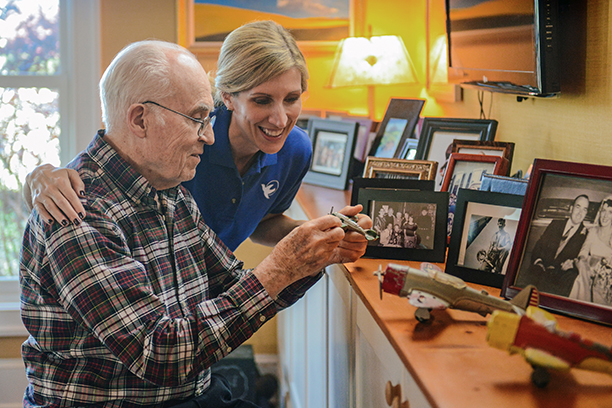 Respite Care in Chadds Ford
Respite Care in Chadds Ford
When your duties as a family caregiver prevent you from caring for yourself, it's time to take a break. Fortunately, you don't have to worry about leaving your loved one alone just because you need some time off. Professional respite care services are available for families across the Chadds Ford area thanks to the compassionate care providers at our local senior care agency.
At Visiting Angels® Chadds Ford, we know it isn't easy to put your loved one's care in the hands of another person, even for a short amount of time. We're here to give you total confidence in the quality of care we offer, so you can have peace of mind about taking a guilt-free break that leaves you feeling refreshed and renergized.
What is Respite Care?
Respite care is a type of senior home care that focuses on giving family caregivers temporary breaks from their overwhelming schedules. In contrast to other types of care available through our agency, these services are typically offered for a short period of time, whether that's to give a family caregiver a few weeks off for a vacation or a few hours away from the house. Having a caregiver step in for them enables family caregivers to focus on other relationships in their lives and engage in self-care without worrying about their loved one's well-being.
How Respite Care Helps Seniors in Chadds Ford
We want to help family caregivers across our local community, no matter how big or small their loved ones' needs are. As a result, we're prepared to provide a wide range of services under the umbrella of this care type. We can assist seniors with basic activities, provide companionship that lowers the risk of senior isolation, and even offer Alzheimer's care for more advanced care needs. Here are some examples of homecare services available:
Help with light chores and homemaking
Reliable medication reminders
Conversation and social interaction
Assistance with bathing and other daily tasks
Taking care of errands and arranging transportation
Getting Started with Respite Care
Get started with a free consultation to learn more about respite care. Our care coordinators will answer all of your questions during a no-obligation meeting and will even start designing a plan of care tailored to your family's preferences.
Call Visiting Angels Chadds Ford today to schedule your respite care consultation in Chadds Ford, Brookhaven, Chester Heights, Oxford, Chester, Media, New London Township, Nottingham, Upland, Upper Chichester, or a neighboring area.
Serving Central & Southern Delaware County and Southern Chester County PA
Visiting Angels
CHADDS FORD, PA
1204 Baltimore Pike #301
Chadds Ford, PA 19317
Phone: 484-770-8479