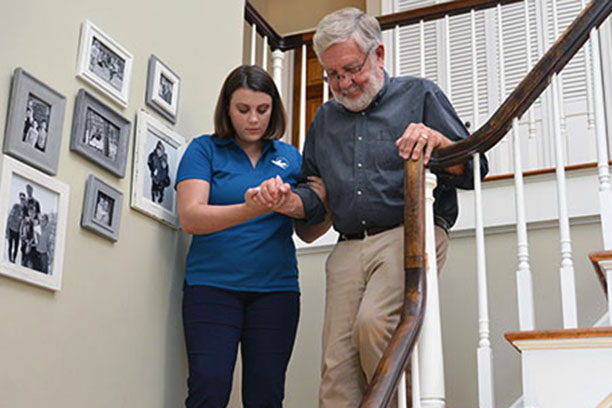 Fall Prevention Chadds Ford, PA
As your loved one ages, falls start to become more common and even more dangerous. At Visiting Angels, we understand that the safety and well-being of your loved ones is of utmost importance. That's why we specialize in offering tailored solutions to prevent falls and ensure a secure living environment for seniors in Chadds Ford, PA.

With our compassionate team of caregivers and comprehensive approach, we create a home care experience that promotes independence, confidence, and peace of mind. By addressing the unique needs of each individual, we aim to reduce the risk of falls and enhance overall safety within the comfort of their own homes.

At Visiting Angels, we believe that prevention is key when it comes to fall-related accidents. Our Safe and Steady® fall prevention program in Chadds Ford, PA can help reduce the risk of slips and falls at your loved one's home with the assistance of our caregivers. Whether your family member requires occasional assistance or more comprehensive care, we offer multiple types of home care services that can be customized to meet their specific needs, including home modifications.

Contact Visiting Angels today to take the first step toward creating a safer home environment for your loved ones in Chadds Ford, PA.

Visiting Angels' Safe and Steady® Fall Prevention Program
Our Safe and Steady® fall prevention program is designed to address the specific needs and concerns of older adults seeking reliable fall prevention solutions. It can help minimize the likelihood of slips, trips, and falls within the home, lowering the potential for a serious injury that may lead to hospitalization, loss of independence, permanent disability, or even death.

We understand that preventing falls requires a multi-faceted strategy that encompasses both physical safety measures and personalized care. Our team of caregivers will conduct an assessment of your loved one's living space, identify potential hazards and recommend modifications to enhance safety. We also provide family members with the Visiting Angels Safe and Steady® Fall Prevention Resource Guide to identify any risk factors in the home and help you take the proper steps to prevent a fall for a loved one.

The Visiting Angels' Safe and Steady® fall prevention program is incorporated into our many home care services, including personal care, companion care, Alzheimer's care, and more. These home care services help your loved one maintain a safe home and get the specific care they need.
Why Fall Prevention Is Important For Seniors
Falls among seniors can result in a range of injuries, from minor bruises to more severe injuries like hip fractures or head trauma. These injuries can have long-lasting effects, leading to hospitalization, extended recovery periods, and a decline in physical and mental health.

The goal of fall prevention is to help seniors maintain their independence, stay active and enjoy a higher quality of life. A senior's home could have a number of potential fall risks, so our team of caregivers will identify them and create a plan to reduce the chances of falls.
Home Care Services We Offer With Fall Prevention
At Visiting Angels, we provide a comprehensive range of home care services that include fall prevention services to ensure the safety and overall health of your loved ones. Our dedicated caregivers are trained to deliver personalized care while implementing effective strategies to reduce the risk of falls.

Below, you can learn more about the home care services we offer with fall prevention.
Companion Care

Our compassionate companion care services offer support and companionship for seniors, promoting social engagement and reducing feelings of isolation. Our caregivers provide assistance with activities that are focused on socialization, all while maintaining a vigilant eye for fall risks and implementing preventive measures.

The emotions of a fall can create a fear of falling again for many seniors. Elderly loved ones who have suffered a fall may delay going to the bathroom, look down instead of ahead while walking, or hold onto something for balance to avoid the chance of falling again.

Falls also can affect a senior's social life, as they may avoid going outside for activities they used to enjoy and even miss seeing grandchildren or close friends due to the risk of falling again. A lack of socialization caused by a fall can make a senior feel lonely, sad, and depressed. By providing companion care within our fall prevention program, our caregivers provide the reassurance your loved one needs to continue enjoying social activities.
Personal Care

Personal care services assist seniors with activities of daily living, ensuring their comfort, hygiene, and safety. Our trained caregivers provide assistance with bathing, grooming, dressing, mobility support, and medication management, all while paying close attention to fall prevention strategies to create a secure environment.

Other benefits of personal care services include meal preparation to provide your loved one with a healthy diet that can help prevent falls. Making sure seniors get the proper amount of Calcium and Vitamin D in their diet is important for bone health and strength. This type of diet can prevent hip fractures or other injuries if a fall occurs. In addition to a healthy diet, physical activity can help strengthen muscles, improve balance, and reduce the risk of falling.

Home modifications can be another part of personal care if your loved one needs additional preventive measures taken in their homes. The Visiting Angels Safe and Steady® Fall Prevention Resource Guide provides both caregivers and family members with a checklist to make easy home modifications.
Alzheimer's and Dementia Care

We understand the unique challenges faced by individuals living with Alzheimer's and dementia and the fear family members have of them suffering a fall.

Our Alzheimer's care services focus on promoting a safe and familiar environment while providing compassionate support. Caregivers are trained to manage behavioral changes, implement memory-stimulating activities, and maintain a secure setting to minimize fall risks.

Visiting Angels' specialized dementia care services cater to the unique needs of individuals living with different forms of dementia. Our caregivers are skilled in providing personalized care, managing challenging behaviors, and creating a structured routine that prioritizes fall prevention. We strive to enhance the quality of life for both individuals with Azlheimer's or dementia and their families.
Transitional Care

Transitional care services are designed to support individuals during the transition from a hospital or rehabilitation facility to their home. At Visiting Angels, we've created the "Ready, Set, Go Home" transitional program to provide non-medical support to help seniors successfully adapt to their homes after hospitalization.

Our caregivers provide assistance with personal home care services like medication management, errands, and light housekeeping, all while implementing fall prevention strategies to facilitate a smooth recovery process.

Contact Us Today To Get Fall Prevention From Visiting Angels
When you choose to get fall prevention for a loved one, you can expect experienced and highly trained caregivers from Visiting Angels. We offer a comprehensive approach that addresses potential fall risks in the home, personalized care plans designed to promote independence and confidence, and flexible services that can be customized to meet your loved one's specific needs.

Our compassionate caregivers are ready to provide exceptional fall prevention services through Our Safe and Steady® fall prevention program, which is tailored to the individual needs of your family member.

Don't wait until an accident happens. Contact Visiting Angels for fall prevention services in Chadds Ford, PA, today to schedule a free consultation.
Fall Prevention FAQs
What are the risk factors for falling?
Several risk factors contribute to falls among seniors, including poor balance and coordination, muscle weakness, vision problems, medication side effects, hazards in the home environment, and chronic health conditions such as arthritis or osteoporosis.

What are the most common injuries with senior falls?
The most common injuries resulting from senior falls include fractures, particularly in the hip, wrist, or vertebrae, head injuries, bruises, sprains, and dislocations. Falls are considered the top cause of injury death for seniors, according to the U.S. Centers for Disease Control and Prevention.

These injuries can range from minor to severe, impacting mobility, independence, and overall quality of life.

What to do if a loved one falls?
If a loved one falls, it's important to remain calm and take the following steps:

Assess their condition and look for any signs of injury.
If they are injured or unable to get up, call for medical assistance immediately.
If they are not seriously injured, help them to a safe and comfortable position.
Encourage them to rest and monitor for any signs of pain or discomfort.
Contact their healthcare provider to report the fall and seek further guidance.

You can take proactive measures to prevent future falls by addressing hazards in the home and considering fall prevention services.

Free "Safe & Steady

®

Fall Prevention Resource Guide"
Serving Central & Southern Delaware County and Southern Chester County PA
Visiting Angels
CHADDS FORD, PA
1204 Baltimore Pike #301
Chadds Ford, PA 19317
Phone: 484-770-8479