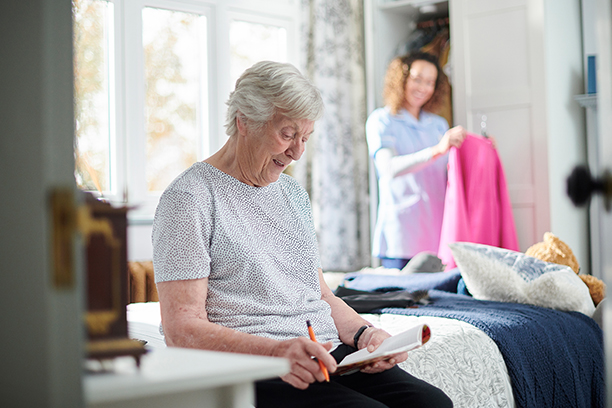 Alzheimers FAQs and Support for Alzheimers in Chattanooga, TN and the Surrounding Area
Have you or a loved one been recently diagnosed with Alzheimer's? You likely have many questions about the disease. At Visiting Angels of Chattanooga, our senior care professionals have developed answers to some of the most common questions surrounding Alzheimer's, dementia, and support for Alzheimer's.
What are the risk factors for Alzheimer's?
Researchers have found that the following are the three most significant risk factors for Alzheimer's:
Age: Most people who have Alzheimer's show symptoms after age 65.
Genetics: Those with a family history of Alzheimer's are at a higher risk of developing it.
Heart health: Individuals with poor cardiovascular health (i.e., history of hypertension, high cholesterol, diabetes, stroke, or cardiac arrest) will be at a higher risk of developing Alzheimer's.
Other risk factors include sleeping problems, high-stress levels, heavy smoking or drinking, a history of head trauma, and exposure to air pollution.
What is the difference between Alzheimer's and dementia?
The Alzheimer's Association defines dementia as a "general term for loss of memory, language, problem-solving and other thinking abilities that are severe enough to interfere with daily life." Alzheimer's is the most common form of dementia. Case estimates lead researchers to believe that Alzheimer's accounts for 60% to 80% of all dementia cases.
What are the symptoms of Alzheimer's?
The most common symptoms of Alzheimer's include:
Short-term and long-term memory loss
Difficulty solving simple problems
Uncommon struggles with day-to-day activities
Mixing up words
Losing items more frequently
Confusion about the current time or place
Confusion about the names or identities of people
Irrational, irritable, or depressed behaviors or actions
What are my options to find support for Alzheimer's?
Those with early to mid-stage Alzheimer's are typically cared for by friends and family. Professional care is typically needed as the disease progresses past those initial stages.
At Visiting Angels of Chattanooga, we recommend hiring Alzheimer's home care. Visiting Angels of Chattanooga has its own specific Alzheimer's care program. The care is given in familiar surroundings (i.e., in their preferred home or residence). Also, the care is specifically designed around the unique challenges those with Alzheimer's deal with (i.e., wandering prevention).
Call 423-424-0944 to learn more about finding support for Alzheimer's and to schedule a free consultation.


Serving Chattanooga and the Surrounding Communities
Visiting Angels
CHATTANOOGA, TN
8115 E Brainerd Rd #20
Chattanooga, TN 37421
Phone: 423-424-0944