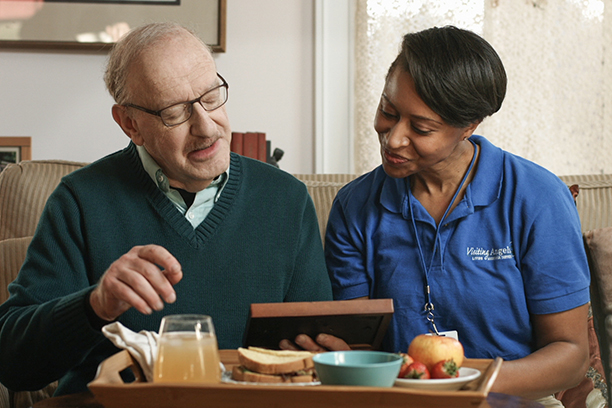 Elder Care Assistance in Chattanooga, TN and the Surrounding Area
Do you have loved ones who live far away from you? These days, it's not uncommon for parents and their adult children to be separated by vast distances. This can result from many situations, such as adult children moving across the country for job opportunities. Likewise, older parents often choose to retire in the climate or community of their choosing. While this situation can work for long periods of time, it can be tricky as older adults begin to require assistance with their day-to-day tasks.
If you've realized that your loved one in Chattanooga needs elder care assistance to continue living in their home, you may be uncertain about your next steps. At Visiting Angels Chattanooga, we can help you arrange elderly care from a distance, giving you peace of mind that your loved one is in the safe hands of a professional care provider.
If you wish to learn more about our home care services, don't hesitate to contact our Chattanooga, TN, office today at 423-424-0944.
Long Distance Elder Care Assistance for Seniors in Chattanooga, Signal Mountain, and the Surrounding Area
We have extensive experience working with families separated by long distances at Visiting Angels Chattanooga. Our team of compassionate caregivers in Chattanooga is prepared to provide a wide variety of elderly care services through our range of in-home senior care programs.
We'll start by meeting with your loved one for a free care consultation to discuss his or her elderly care needs, routines, and schedules. We can also meet with the staff at your loved one's hospital, his or her physician, or other individuals involved in his or her care. This information will assist us in designing a personalized care plan and selecting a suitable caregiver with the requirements needed to provide your loved one's care.
Thanks to technology, it's now possible to provide long-distance caregiving via phone and Zoom. While it may not be as hands-on as in-person caregiving, it can still be effective in ensuring your loved one receives the care they need.
If you prefer a Zoom call with family members, or if you're not in the same area as your aging loved ones, we can help. Our team will talk to you and your loved one's doctors if needed to understand the proper care.
We also make an effort to be easily reachable by phone so that you can stay updated on your loved one's care in Chattanooga. We understand that this time can be stressful for your whole family, so we aim to make the process of getting started with elderly care as straightforward as possible. In addition, we're here to answer your questions as you navigate this new stage in your loved one's life.
Schedule a FREE In-Home Consultation
We can help your loved one get started with our elder care assistance. Contact Visiting Angels Chattanooga at 423-424-0944 today to speak with our staff about arranging a free care consultation at your loved one's home.


Serving Chattanooga and the Surrounding Communities
Visiting Angels
CHATTANOOGA, TN
8115 E Brainerd Rd #20
Chattanooga, TN 37421
Phone: 423-424-0944