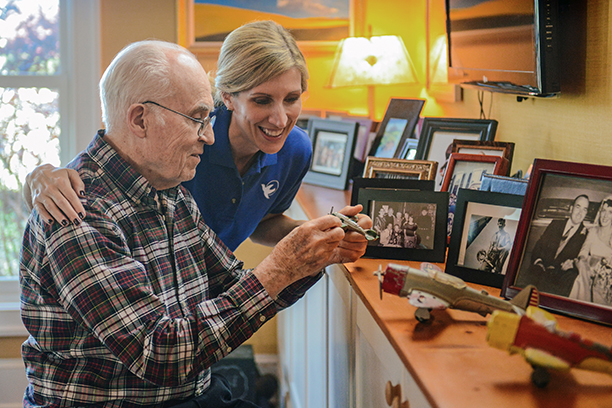 Senior Home Care in Lupton City, TN
At Visiting Angels® Chattanooga, we're grounded in the conviction that everyone deserves the choice to "age in place" within their own home, even when faced with challenging age-related conditions. Our specialized approach to home care is tailored to address the individual needs of our clients, considering both their preferences and the unique difficulties they're dealing with.
Home Care in Lupton City, TN
Our commitment to personalized home care extends to Lupton City, TN, and nearby communities. Our services are designed with flexibility in mind and can be adapted to the specific requirements of your loved one.
Each customized care plan we create serves as a reflection of your loved one's situation and desires, offering them the crucial support needed for a safe and pleasant living experience at home.
We begin our process with an initial consultation, completely free of charge and without any obligation. During this meeting, we will address all of your inquiries while gaining a thorough understanding of your loved one's circumstances. Using the information we gathered, we will formulate a comprehensive care plan for your loved one and your family.
For clients who need more hands-on support for day-to-day tasks, opting for personal care is frequently the most suitable route. Our personal care service provides assistance with bathing, dressing, grooming, and mobility, among other activities that contribute to a fulfilling daily life.
We also offer specialized care services for those diagnosed with Alzheimer's and dementia, that are designed to manage the unique challenges, symptoms, and safety concerns associated with memory disorders. This enables seniors to stay in their familiar environments instead of being forced to move to assisted living in Lupton City.
For family care providers, we offer respite care services, providing as much or as little supplementary care as needed to help give you a rest from the stresses of caregiving while giving you the peace of mind that comes from knowing that your loved one is in capable hands while you take a break.
Choosing the right care provider is a pivotal aspect of a successful caregiving experience. That's why we take the time to match our caregivers with our clients, with the goal of finding the one or ones that will best cultivate a meaningful, long-term relationship with your loved one.
To learn more about our home care services, contact Visiting Angels to arrange an in-home care consultation for your loved one in the Lupton City area.
About Lupton City, TN
In 1839, the city of Chattanooga, Tennessee was incorporated. Within its downtown area, you'll find Lupton City, a small city named after Chattanooga businessman John T. Lupton.
Lupton City has a rich history of textile industry over the 20th and early 21st century. The Dixie Mercerizing Company started up in the early 20th century, emerging as a model mill town. The nearby neighborhoods were planned and built to accommodate the workers needed to keep the mill running smoothly.
In competition with other mill towns at that time, Lupton City was designed with a functional grace. Indoor plumbing was a luxury in that era in other areas, yet common in Lupton City.
The textile industry boomed for the majority of the 20th century, yet declined steadily until the eventual closure of the mill, which then led to an economic decline of the area and its surrounding land.
Today, there are many sights to see in Lupton City and its surrounding area. Between the parks, museums, and gardens, there are always things to do in the area when you're traveling through. In addition to that, there is talk of bringing the mill back to life to bring a new purpose to the city.
Serving Chattanooga and the Surrounding Communities
Visiting Angels
CHATTANOOGA, TN
8115 E Brainerd Rd #20
Chattanooga, TN 37421
Phone: 423-424-0944