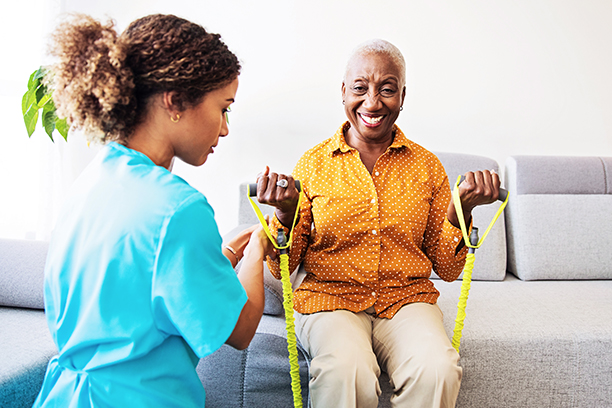 Home care in Walden, TN
Located just outside of Chattanooga, the Town of Walden is known for its small-town charm, open spaces, and pristine natural areas. It is a great place for seniors to remain living at home as they age, and Visiting Angels can help them do that with our customizable in-home care services.
Walden Is A Great Place For All Ages
Walden is a small, friendly community that strives to attract families who plan to live there throughout the phases of their lives. They have plenty of local restaurants, shops, and other attractions, and the people are incredibly welcoming, making Walden a very desirable place to live.
Walden is home to the Historic McCoy Farm & Gardens, "where history, gardens, trails, and nature connect with community." A combination of historical ambiance, natural beauty, and gracious hospitality, this 38-acre legacy in the middle of the town of Walden is brimming with woodlands, native pollinators, an apple orchard, and an arboretum.
Fun Fact: Walden, TN, is located atop the southerly "Signal Mountain" section of Walden Ridge, and contains an antenna farm, with the transmitter sites of two of Chattanooga's TV stations, WRCB-TV, Channel 3, and WTVC-TV, Channel 9. There are also towers for two of Chattanooga's FM radio stations, WDOD-FM at 96.5, and WSKZ, at 106.5.
For seniors, the Bachman Community Center, located in the historic Nathan L. Backman Elementary building, is a non-profit organization with a mission of fostering a sense of community for all of the residents of Walden. It houses a thrift store, a public library, and a community garden, and offers a variety of classes and programs for seniors.
Home Care Services in Walden, TN by Visiting Angels
Visiting Angels Chattanooga provides home care in Walden, TN, and the surrounding areas. Our services include a variety of non-medical home care services designed to provide a way for Walden's seniors to age in place at home.
Our home caregivers take pride in providing kind and compassionate care to our clients, making the lives of our clients and their families easier, and helping seniors living in Walden maintain their independence.
Our home care services are designed to be flexible and customizable to meet the unique needs of your loved one. We will work closely with you and your family to create a care plan that everyone is comfortable with.
Our personalized approach to in-home care begins with our Life Care Navigation™ program. This program is a collection of the various types of home care services we offer and can be customized to meet the needs of your loved one to create the best plan for your family.
Our personal care plan is designed to support seniors who need assistance with some of the basic activities of daily living, such as help with bathing and dressing, toileting, personal hygiene, medication reminders, meal preparation, light housekeeping, shopping and errands, and transportation to appointments.
Our palliative care plan is a specialized approach to help support seniors living with chronic conditions. This plan was designed to help enhance your loved one's quality of life by taking a more holistic approach to care. For example, this plan may focus on providing comfort to help alleviate physical pain, provide emotional support, companionship, and meaningful conversation, and help boost an overall sense of inner peace.
Our Alzheimer's care services and dementia care services are designed to help to prevent wandering, fall prevention, and more. Our home caregivers are experienced at working with people with memory-related illnesses and are adept at keeping our clients safe and comfortable at home in familiar surroundings.
For family caregivers, our respite care plan can help ease the burden and provide some much-needed relief. We offer flexible options, from temporary care to part-time care to support care to help keep your elderly loved one safe at home … and out of a nursing home or assisted living facility.
Contact Visiting Angels for Home Care in Walden, TN
If you have a loved one who needs home care in Walden, TN, give Visiting Angels a call today at 423-424-0944 to schedule a free in-home consultation.
Serving Chattanooga and the Surrounding Communities
Visiting Angels
CHATTANOOGA, TN
8115 E Brainerd Rd #20
Chattanooga, TN 37421
Phone: 423-424-0944