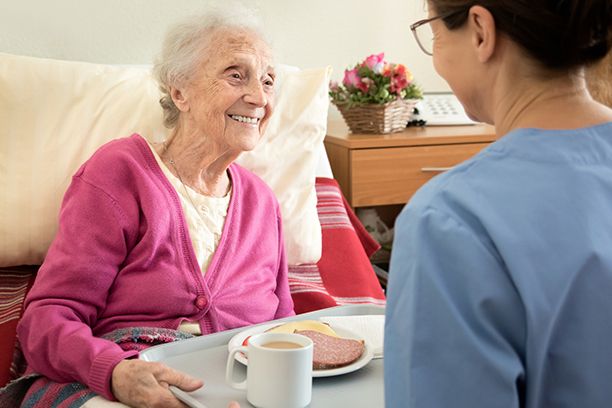 Caring for Someone with Alzheimer's and How Our Alzheimer's Caregivers Can Help in Chattanooga, TN and the Surrounding Area
The Alzheimer's Association reports that 5.8 million Americans aged 65 and older are living with Alzheimer's disease. If you are concerned that your loved one may be suffering from Alzheimer's, it is important to be proactive in your response. The sooner your loved one can be diagnosed with Alzheimer's, the sooner you can provide support (i.e. one of the available Alzheimer's caregivers).
Below are 10 common Alzheimer's warning signs you should look for:
Challenges in planning or solving problems: Your loved one may have difficulty working with numbers. For example, they may find themselves struggling to keep up with their monthly bills and maintaining a budget.
Changes in mood or personality: Emotional changes include increased depression, anxiety, fearfulness, and mood swings.
Confusion about time and place: The senior may mismatch seniors, seasons, or dates.
Decreased judgment when making decisions: Some decisions that may fall by the wayside include whether or not to bathe or whether to spend money on a certain item.
Difficulty completing familiar tasks at home or work: Activities that they were once familiar with (i.e. how to accomplish a favorite hobby or how to get to their favorite restaurant) may become unfamiliar to them.
Memory loss that disrupts daily life: Your loved one may rely heavily on notes or reminders from family members to accomplish tasks that they used to be able to handle on their own.
Misplacing things and losing the ability to retrace your steps: In this warning sign, a senior may put things in strange places or not be able to retrace their steps to find something that they once lost.
New problems with speaking or writing: The senior may struggle to complete their sentences, follow conversations, or find the words they are looking for.
Trouble understanding visual images and spatial relationships: These changes may cause issues with reading, balancing, or driving.
Withdrawal from work or social activities: As a response to their Alzheimer's, your loved one may refrain from attending social events with friends or family.
Are you interested in exploring the option of hiring one of our available Alzheimer's caregivers? Call 423-401-6172 to learn more about our Alzheimer's caregivers or request Alzheimer's care here.
Serving Chattanooga and the Surrounding Communities
Visiting Angels
CHATTANOOGA, TN
8115 E Brainerd Rd #20
Chattanooga, TN 37421
Phone: 423-401-6172