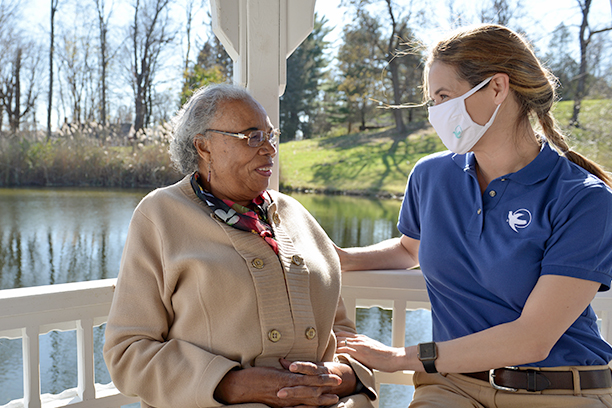 Affordable Cost of Senior Care in Conway, AR
Visiting Angels makes the cost of senior care affordable in Conway, Cabot, Greenbrier, Vilonia, and the surrounding areas
You've come to the perfect place if your loved one needs affordable local home care services. We've made it our aim at Visiting Angels Conway to improve seniors' wellbeing by assisting them in aging in place cost-effectively. We feel that seniors need assistance with essential activities without worrying about the cost of senior care and putting undue financial strain on their finances.
This compassionate mentality has earned us a reputation as a dependable provider of home care in Conway and the surrounding areas. We also proudly provide low-cost home care in other locations such as Bigelow, Greenbrier, Holland, Cabot, Houston, Mayflower, Perryville, Vilonia, and the surrounding areas.
Conway Home Care Services Can Be Customized
Our unique and fully customizable approach to home care can assist your loved ones in receiving the specific kind of assistance they require to go about their daily activities safely and confidently. Every client we work with has different needs, diverse lifestyle preferences, and financial constraints. To account for these discrepancies, we create tailored care plans. Working with your family, we'll create a care plan that meets your loved one's needs while also allowing them to enjoy the company of a caring provider without tour family worrying about the cost of senior care and how it will affect your loved ones.
Because of the emphasis on customization, arranging care visits is flexible and straightforward to handle. We want families to schedule care visits that meet their needs while staying within their budget. As we keep hourly caregiver rates low, we're making home care more available than ever before.
We'll discover a solution that's precisely suitable for your loved one, whether they're dealing with dementia or need a little help with housekeeping and meal preparation. Some of our most popular care styles and scheduling options are listed below:
Whether you need short-term or long-term care, we can help.
Ongoing care during the week and on weekends
Visits from the caregivers on holidays and important occasions
Overworked family caregivers can benefit from respite care.
Alzheimer's and dementia treatment
Whether you need assistance during the day or in the evening, we can help.
Visits for overnight care
Support is available 24 hours a day, seven days a week, or live-in.
Assistance with fundamental daily activities
Begin the intake process with the low-cost home care answer you've been looking for when it comes to affordable senior care! To learn more about the cost of senior care and the services we provide, and to schedule a no-cost care evaluation for your loved one, contact Visiting Angels Conway.
Serving Conway, Cabot, Greenbrier, Vilonia, and the Surrounding Areas
Visiting Angels
CONWAY, AR
240 Skyline Dr #301
Conway, AR 72032
Phone: 501-381-1630