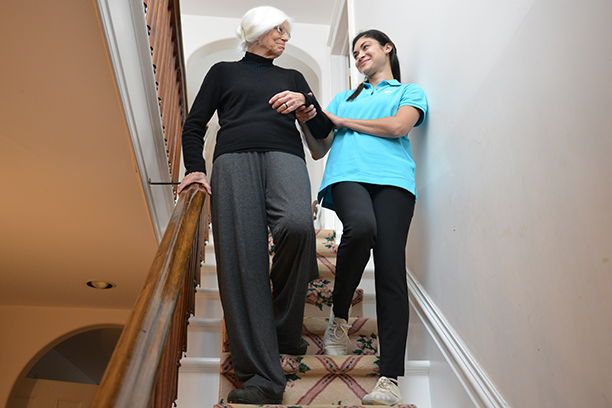 How We Assist With Aging in Place in Eureka 
As a leading care provider, we know just how important aging in place is for older adults, even when they're dealing with complicated age-related difficulties. At Visiting Angels® Eureka, we help seniors age in place through our customizable home care services. Our professional caregivers are available to offer a full range of services in the familiarity of seniors' homes, enabling them to remain where they want to be while experiencing high-quality care.
The Importance of Aging in Place in Eureka
Without specialized support, many seniors find that they gradually lose the ability to complete tasks that once felt like second nature. As a result, their concerned family members often assume this means they should be moved to an assisted living center. However, most elderly adults do not want to leave their own homes. Living at home can be crucial to their quality of life and helps reinforce their sense of self and freedom throughout their golden years.
In-Home Care vs. Assisted Living
When seniors move to an assisted living center such as a senior care community or nursing home, they often lose the ability to determine how they spend their time. In many cases, they may be required to follow pre-determined schedules that take the spontaneity out of life. This can make it difficult for them to maintain the social network they once enjoyed or keep up with the hobbies that bring them comfort.
Shared living facilities can also pose a health concern for vulnerable individuals. In this type of setting, contagious illnesses can spread rapidly. For this reason, studies have shown that seniors who receive care at home experience better health outcomes on average than those in a facility environment.
How We Help Families in Eureka
Our senior care services empower elderly adults to live life on their own terms. We match care recipients with caregivers who can accommodate their requirements, scheduling preferences, and lifestyle. From a helping hand with cooking to advanced Alzheimer's care services, our programs include a wide variety of care types and levels of support to assist seniors at different stages of the aging process.
With our compassionate care providers, aging in place is possible for seniors in Eureka, Arcata, Fortuna, McKinleyville, Trinidad, and throughout the surrounding areas! To learn more about getting started with senior care, contact Visiting Angels Eureka today and request a free consultation.
Serving Eureka, CA Area
Visiting Angels
EUREKA, CA
1112 5th St
Eureka, CA 95501
Phone: 707-442-8001 & 707-725-3611 & 707-825-8008
HCO #124700002