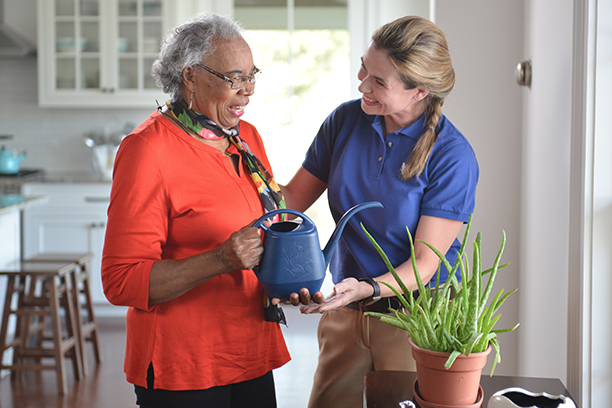 Our Experience
Find Experienced Elderly Care Professionals at Visiting Angels Eureka CA
Finding an experienced caregiver for your loved one doesn't have to be difficult. Join families throughout the Eureka CA area who rely on Visiting Angels for experienced elderly care services. Your loved one can enjoy the benefits of being matched with an elderly care provider who has the skills and compassionate nature to provide top quality care.
At Visiting Angels Eureka CA, we only hire caregivers who have previous experience providing elderly care services. We ask each caregiver we interview to provide references from trusted sources including nursing homes, hospitals, other home care agencies, and assisted living facilities. Each of our caregivers has participated in multiple interviews and has passed background checks and drug screens prior to joining our team. We are dedicated to hiring the finest elderly care providers in the Eureka CA area so you can have complete peace of mind with our services.
In addition to choosing elderly care providers with previous experience, we choose those caregivers who are compassionate and caring. It's the intangible traits that can mean so much on a day to day basis. You will find our elderly care professionals to have compassionate personalities, a strong desire to provide care assistance, and many have provided care to a loved one in their own family.
At Visiting Angels Eureka CA, we'll do everything we can to match your loved one with an elderly care professional who can meet their needs. You'll be able to interview several of our elderly care providers before choosing the one you'd most like to work with. We hope that by empowering you to choose your caregiver, your loved one will be more at ease with their Angel companion.
Your Angel companion will provide all the home care services your loved one requires. If your loved one needs around the clock care, we will build a team of experienced elderly care providers who can provide assistance throughout the day. The custom care plan we create for your loved one will detail the services to be provided and a schedule of caregiver visits. Your elderly care provider from Visiting Angels Eureka CA can help with everything from laundry and meal planning to medication reminders and hygiene care. We work on your schedule and provide the care that makes it possible for your loved one to continue living safely at home.
Call Visiting Angels Eureka CA today to learn more about our experienced elderly care professionals and how they can help your family find peace of mind.
Serving Eureka, CA Area
Visiting Angels
EUREKA, CA
1112 5th St
Eureka, CA 95501
Phone: 707-442-8001 & 707-725-3611 & 707-825-8008
HCO #124700002