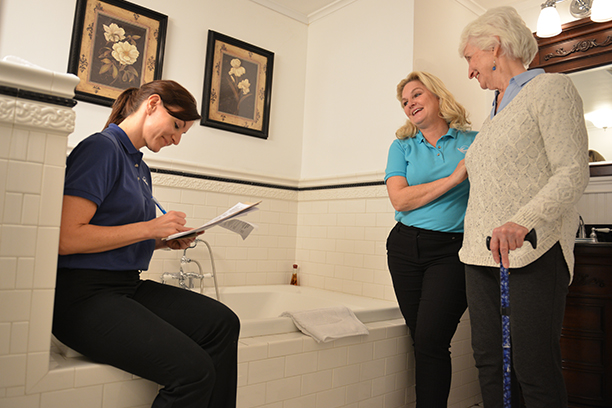 Senior Homecare by Angels
We know it isn't easy to invite someone into your home to discuss home care for a loved one. Visiting angels provides Peace of Mind. Our experienced staff and dedicated care team will match you with the best caregiver possible to meet your specific needs.
Select Your Caregiver
You'll have the opportunity to interview and select any caregiver who we refer to you. It's important that you feel completely comfortable with that person. When you meet our caregivers, you're going to be pleasantly surprised to see that at Visiting Angels character matters.
Personalized Background Screening
Our personalized caregiver background screening system is designed to maximize your peace of mind. However, we place most emphasis on the intangible traits in a caregiver which will mean so much in your day to day experience in working with them. These traits include a caring loving personality, a strong desire to help people and a family experience of caring for a loved one.
We Recruit Experience
Common traits of our caregivers include prior experience in providing home care, experience with volunteer organizations and/or affiliations with religious organizations. Most importantly, our caregivers provide references to us from sources we can trust, such as other agencies, nursing homes, nonprofit organizations, charities, hospices, assisted living communities etc. It is most important to us to put your needs first. We will only refer a caregiver to you who has the experience to fulfill your individual needs.
Serving Eureka, CA Area
Visiting Angels
EUREKA, CA
1112 5th St
Eureka, CA 95501
Phone: 707-442-8001 & 707-725-3611 & 707-825-8008
HCO #124700002