Visiting Angels Fort Smith has been a highly-rated home care agency in the community for over 15 years. We serve seniors in Fort Smith, Van Buren, Greenwood, Alma, and the surrounding River Valley area in Arkansas. We would love to meet you and talk about all of the caregiving opportunities we currently have available. If you have a valid HHA, CNA, or PCA certificate, we will put you to work immediately!
Call us today at (479) 434-4634 or click on the image below to learn how you can join the Visiting Angels team.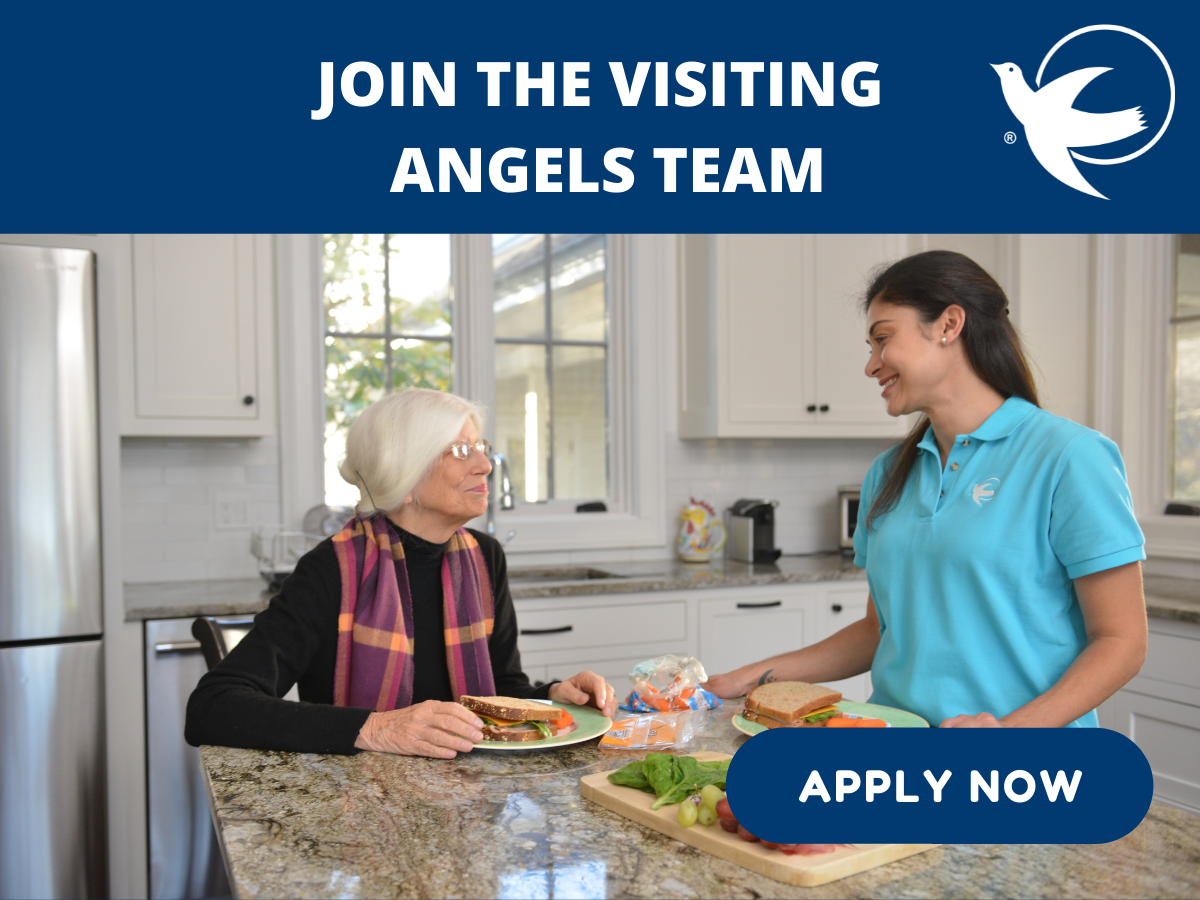 Why Should I Join Visiting Angels Fort Smith as an Angel Caregiver?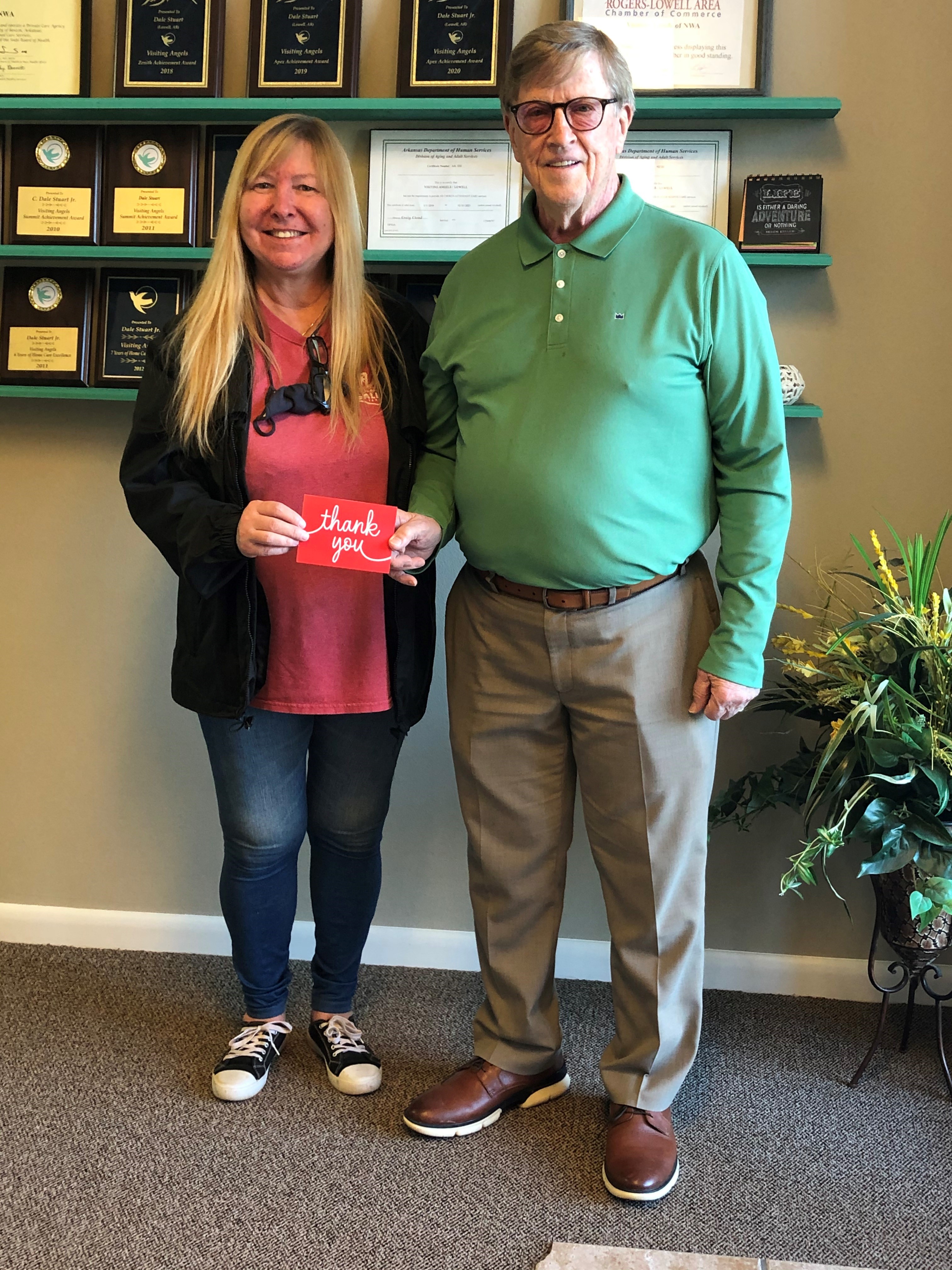 Competitive pay rates up to $16/hour
Sign-on bonus up to $1,000 and Retention Bonus up to $6,000 in a year
Flexible Scheduling – Morning, Evening, Weekdays, Weekends, and Overnight shifts available
Referral Bonuses Available
Paid Training to Improve Your Skills
Holiday Pay
Job Advancement Opportunities
Mobile App to clock in/out and check your schedule
Organized and supportive office staff who provides timely employee feedback - We care and support our caregivers!
Rewarding job responsibilities, which improve the lives of seniors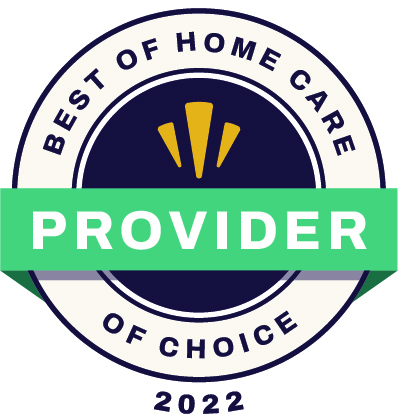 Start Your Career with Visiting Angels Fort Smith

You may be wondering what it's like to be a caregiver with Visiting Angels Fort Smith. Our knowledgeable and supportive staff makes it possible for seniors in our community to age in place with dignity at home. Our meaningful home care services make this possible by providing them with the support they need to perform everyday tasks and providing much-needed companionship.
As a caregiver, you will:
Provide assistance with everyday tasks and companionship to seniors in their homes
Personal care and hygiene assistance, including bathing and dressing
Help with running errands and transportation to and from appointments
Perform grocery shopping, meal preparation tasks, and light housekeeping
Monitor medication schedules and provide reminders throughout the day
Did you know that we hire licensed and unlicensed caregivers? Don't have a caregiver license? If you have caregiver experience and want to work for Visiting Angels Fort Smith, but you don't have a valid license, we will train you to be a PCA Licensed Caregiver.
Hear What Our Valued Caregivers Have to Say:
"I've been working for Visiting Angels since 2005. God lead me here when I was 19 years old and I love my job. They have always given me plenty of hours, worked around my schedule and treated me like family, not just an employee. The owners, Dale and Cary have created a wonderful work environment for the caregivers and office staff. I wouldn't want to work anywhere else." - Justin E.

"I've been working with Visiting Angels now for over 3 years and found it to be a great place to work! I meet wonderful clients who really need and appreciate our help and I find it very rewarding. The management makes me feel like part of the family. I would highly recommend working for Visiting Angels." - Melissa N.

"Working for Visiting Angels has been so rewarding. The office staff is excellent at placing caregivers with clients. I have the ability to work as many hours as I can or want. They have flexible schedules and plenty of advancement opportunities. I love what I do for Visiting Angels." - Hillary F.