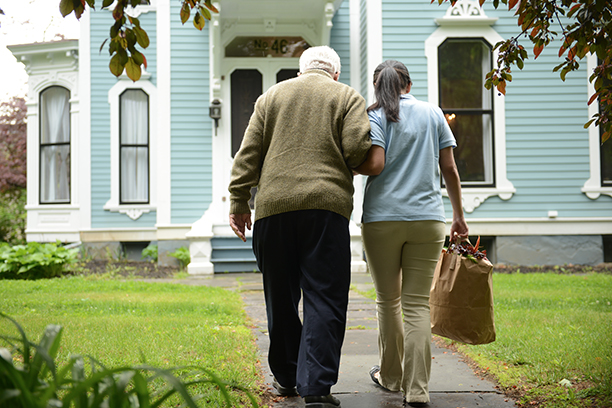 Reducing Hospital Readmissions for Seniors in and Around Fort Smith, AR
There is a high risk of readmission for elderly patients who do not get additional care and help in the weeks after their discharge from the hospital. Medication reminders, aid with following discharge instructions, and support with everyday household tasks may make the difference between a return to the hospital and a successful recovery.
That is where Visiting Angels® Fort Smith can help. Our Ready-Set-Go Home program gives seniors in Fort Smith, Van Buren, Alma, Greenwood, and the surrounding communities in the River Valley Area of Arkansas the transitional care services that are so often needed to avoid hospital readmissions and stay on the road to full recovery. You can count on our personal caregivers to help your loved one as they recover at home.
The Risk of Hospital Readmission for Seniors in and Around Fort Smith
While anyone discharged from a hospital in the River Valley may need some kind of in-home care during their recovery to avoid rehospitalization, the need for seniors is often much greater. In fact, nearly one in five Medicare recipients are readmitted to the hospital within 30 days of being discharged. Why is the risk so much greater for seniors?
The reasons for readmission vary by individual, but often include:
Failure to follow hospital discharge instructions
Missing scheduled doctors appointments and follow-ups
Trying to do too much on their own too quickly
Forgetting to take prescribed medications on time, or taking the wrong dose
Neglecting to report changes in their condition, or worsening symptoms
Being readmitted to the hospital after experiencing complications can impact a senior's ability to remain independent. Readmissions usually lead to longer recovery times and can reduce the chances of a full recovery. Some seniors who get readmitted may never be able to live independently again due to physical or cognitive limitations even after recovering. Therefore, having a personal caregiver to provide transitional care is essential for older adults who have been discharged and need to recover at home.
How Personal Caregivers from Visiting Angels Can Help
Re-admission to the hospital is a risk for seniors who live alone and have recently been hospitalized. Family members may wish to assist, but they may not be able to because of their own responsibilities and work schedules, or because they live too far away. Many families have found that Visiting Angels Fort Smith's transitional care services are the best option. Our transitional care program, Ready-Set-Go Home, provides assistance and support to seniors in the River Valley Area during their hospital stay, release, and at-home rehabilitation. Unlike other local home care agencies, we personalize care plans for each and every senior in our care. That means your loved one will receive the care and support they truly need throughout their recovery.
Our Ready-Set-Go Home program includes:
Scheduled personal caregiver visits throughout their hospital stay
Transportation and accompaniment to medical appointments, physical therapy, and rehabilitation
Meal planning and preparation following dietary restrictions or guidelines
Reminders to take prescribed medications, drink fluids, and eat regularly
Help with housework, such as washing dishes, vacuuming, and laundry
Assistance with daily tasks that may be difficult or impossible during recovery, such as bathing and dressing
When you make the decision to entrust your loved one's transitional care needs to Visiting Angels Fort Smith, you can rest certain that we will be there for you every step of the way. Our clients and their families can count on our personal caregivers whenever they need to, part-time, full-time, or around the clock, even on holidays and weekends. For after-hours emergencies, you may reach us at any time and expect a callback within 15 minutes.
For more information about our Ready-Set-Go Home program and how our personal caregivers can help your loved one, reach out to our Fort Smith, AR, office today for a no-cost in-home consultation.


Serving Fort Smith and the Surrounding River Valley Area
Visiting Angels
FORT SMITH, AR
200 North Greenwood Ave #3
Fort Smith, AR 72901
Phone: 479-469-1761
Fax: 479-434-4724