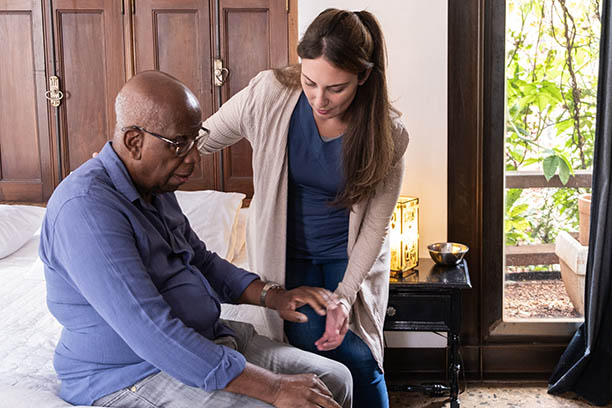 In-Home Palliative Care for Seniors in Fort Smith, AR and Nearby Areas
Families all over Fort Smith, Van Buren, Alma, Greenwood, and surrounding River Valley communities face a difficult decision when selecting a provider of palliative care. This difficulty is why our Visiting Angels Fort Smith staff is always available to meet with you, review our services, and respond to your inquiries and worries. We want you to be able to decide confidently after doing your research.
Palliative Care at Home: What Is It and How Can it Help Seniors in Fort Smith, AR, and the Surrounding Communities
Our specialized palliative services offer supportive care for your loved ones to continue living in the location they adore—their homes.
Between palliative care and hospice care, there are significant differences. Palliative care can be given to everyone, regardless of life expectancy, whereas hospice care is only given to people with a short time to live. We provide dedicated end-of-life care services in addition to our palliative services.
How Do Home Care Services from Visiting Angels Fort Smith Work?
Every partnership with Visiting Angels Fort Smith starts with a free consultation. We take the time to meet with you and other family members to go through your loved one's needs and even speak with their doctors and caretakers. We know that the more information we have, the better treatment we can offer.
Many families in Fort Smith, Van Buren, Greenwood, Alma, and the surrounding areas choose us because of our personalized home care services. We never adopt a formulaic strategy. Instead, we create a customized plan for home care services that will suit your loved one's exact needs today and offer flexibility in case those needs change in the future.
Palliative care is a type of specialist care that assists people in coping with a chronic disease. Our caring caregivers provide tranquil and encouraging environments to assist people with chronic diseases to stay at home.
Our care staff emphasizes a person's bodily comfort and emotional, social, and spiritual health.
Our Approach to Palliative Care
We provide care with an emphasis on the following four areas through our exclusive Palliative Care Certification Program:
Physical Needs
We concentrate on the physical requirements and comfort of your loved one.
Emotional Needs
By keeping their favorite habits and activities, we help our customers live the best possible lives by understanding what matters to them.
Social Needs
We establish good ties with our clients' relatives as well. To combat emotions of isolation and loneliness, we offer companionship and discussion.
Spiritual Needs
As we support you in a trying time, we work to restore hope for your loved one and your family.
Get Started with Visiting Angels Fort Smith
To learn more about our palliative care services, contact our Fort Smith, AR, office to schedule a free in-home consultation and get started with our home care services.


Serving Fort Smith and the Surrounding River Valley Area
Visiting Angels
FORT SMITH, AR
200 North Greenwood Ave #3
Fort Smith, AR 72901
Phone: 479-434-4634
Fax: 479-434-4724