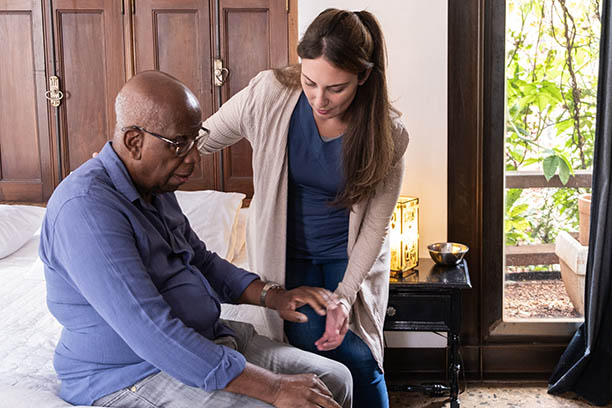 Comforting Palliative Care in Havertown, PA and Nearby Areas
It's not always easy for older adults to live independently, especially if they live with a chronic or serious illness. If you're worried about your loved one's well-being and their ability to live out their golden years at home, consider palliative care from Visiting Angels Havertown.
Our caregivers have worked hard to restore hope and bring comfort to the lives of countless seniors in Havertown, Broomall, Wayne, Bryn Mawr, Wynnewood and throughout Philadelphia County, Delaware County, Montgomery County and the Main Line for over two decades, so you can count on us to give your loved one the care they deserve while giving you peace of mind.
Learn how we can help your loved one by calling 610-924-9663 today!
What Is Palliative Care and How Can It Help Havertown-Area Seniors?
The main purpose of palliative care is to minimize stress and discomfort and find ways to relieve the symptoms of an illness or chronic condition, regardless of the stage of the illness or life expectancy. In essence, this type of service promotes overall well-being and seeks to elevate quality of life for seniors and family caregivers alike.
Palliative services are perfect for aging adults who require:
Ongoing assistance with chronic or age-related concerns
Physical, emotional, social and spiritual care
While it is true that most people interchangeably use the terms palliative and hospice care, in the caregiving industry, they are traditionally perceived as completely different types of care. While palliative and hospice care undeniably have many similarities, one major characteristic that differentiates the two is that hospice care is almost singularly reserved for those with terminal illness whereas palliative care is provided regardless of life expectancy.
How Palliative Care from Visiting Angels Havertown Helps Seniors Find Comfort
At Visiting Angels Havertown, our palliative care is rooted in a traditional model of care and offered through Life Care Navigation – a collection of senior care plans comprising of numerous specialized services. Life Care Navigation also includes end of life care that provides families with compassionate support during the end of life transition.
To ensure the highest quality of in-home senior care possible, our certified caregivers are trained to provide supportive and comforting care, approaching clients with an open heart and a holistic mindset with a mission to assist with healing. Our goal is to focus on a wider range of human needs, addressing the physical, emotional, social and spiritual needs of our clients in Montgomery County, Delaware County, Philadelphia County and the Main Line.
Getting Started with Home Care from Visiting Angels Havertown
If you are currently providing care for a loved one in need of professional in-home palliative care, you can get all the assistance and support through Visiting Angels Havertown. We will be more than happy to answer your questions and schedule a free in-home consultation with one of our friendly care directors in your loved one's home. We can offer you care plans tailored to your specific needs, the ability to Select Your Caregiver and a client-centered approach you are unlikely to find anywhere else.
Give our local office in Havertown, PA a call today to learn more about our home care services and schedule your free in-home meeting with Visiting Angels Havertown. We are here to help!


Serving Havertown, Wayne, Bryn Mawr, Wynnewood, Broomall and the surrounding areas of Delaware, Montgomery, and Philadelphia Counties including the Main Line
Visiting Angels
HAVERTOWN, PA
1950 Lawrence Road
Havertown, PA 19083
Phone: 610-924-9663