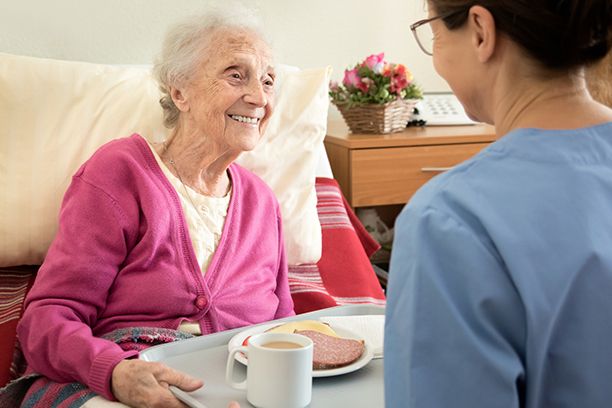 In-Home Care Providers Help with Fall Prevention for Seniors in Havertown, PA and Surrounding Areas
With fall prevention solutions from Visiting Angels, our in-home care providers help seniors in Havertown, Wayne, Bryn Mawr, Wynnewood and surrounding communities in PA stay safe and avoid fall-related risks and injuries
Falls are among the leading causes of injuries in seniors. They do not just cause physical injuries that may lead to a loss of independence but affect older adults emotionally and socially too, resulting in social isolation, anxiety, and even depression.
Falls are a major health concern for seniors, particularly considering that every year one in three older adults falls and one in five sustains a serious injury like a broken hip or fracture. More than 800,000 seniors are hospitalized due to falls each year and a lot of them need to move to a long-term care facility afterward. Some of them are never able to return home.
The good news is that most falls are entirely preventable, especially with the help of the fall prevention program from Visiting Angels Havertown.
Preventing Falls with In-Home Care Providers from Visiting Angels Havertown
One of the most important things to know about falls is that they are typically caused by one or more risk factors, that is, things that increase a person's chance of falling. These can include medical conditions and problems, like arthritis, dementia or poor vision, as well as home environment, such as no grab bars in the bathroom or clutter.
Seeing as there are a lot of risk factors for falls, our caregivers will make sure to identify all of them in our clients' surroundings so that preventative measures could be taken as soon as possible. This is all done through a home safety assessment, where our team looks for any fall hazards in the home, ranging from easily fixable, like unsecured rugs or small furniture in walkways, to those that require some investing, like bathtub with no grab bars or corridors with no night lights.
Once our in-home care providers are done inspecting the home, they proceed to learn more about the client and their health so that they could recommend simple steps for boosting their safety and security. These can include light physical activity or discussing alternative medications with their medical team.
Finally, in addition to fall prevention, our in-home care providers can care for seniors in the comfort of their home, assisting with a range of daily tasks, from meal prep, medication reminders, and housekeeping to running errands and transportation.
To learn more about Visiting Angels Havertown and how we can help your loved one lead a happier, safer life at home as they age, please contact us today
Serving Havertown, Wayne, Bryn Mawr, Wynnewood and the surrounding areas of Delaware, Montgomery, and Philadelphia Counties including the Main Line
Visiting Angels in Havertown, PA
1950 Lawrence Road First Floor
Havertown, PA 19083
Phone: 484-451-7359