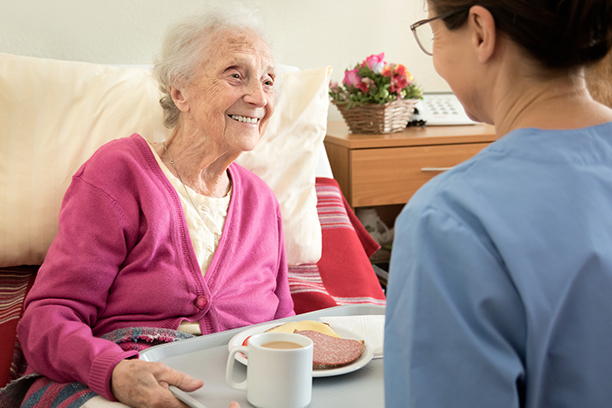 Help with Light Housekeeping for Seniors in Havertown, PA and Nearby Areas
The aging process may make even the most basic chores difficult to do. Taking care of the house is one job that might becoming more challenging for adults over the age of 65. It might be difficult to clean shelves and eliminate debris from pathways if you have mobility issues. If your loved one has a disease like dementia that impairs their memory and cognition, they may also forget to run the dishwasher or remove clothes from the washing machine. Your loved one may have reached the point where they need assistance if they have dirty dishes building up in the sink, stains on the countertops or clutter on the floor.
At Visiting Angels Havertown, we provide elderly and disabled adults in Havertown, Wayne, Bryn Mawr, Wynnewood, Broomall and the surrounding areas of Delaware, Montgomery and Philadelphia Counties many options for home care. One of these options is assisting seniors with light housekeeping tasks. Our caregivers can help your loved one clean up and organize their home and improve their quality of life.
How Seniors Benefit from Help with Light Housekeeping
When living alone, keeping the home tidy is critical for seniors. It helps older people maintain their health while also keeping them safe.
High-touch surfaces like doorknobs and stair railings, as well as frequently worn items, may harbor a large number of germs that can be reduced with a thorough cleaning of the home. This can help keep your loved one from getting sick, which is important since getting older can weaken the immune system.
Keeping the home clean on a regular basis also reduces the danger of falls, which is especially important for the elderly. Seniors are particularly vulnerable to serious accidents such as broken bones and concussions if they lose their footing on cluttered paths or in puddles on the floor. This may result in a lengthy period of rehabilitation or possibly the loss of one's freedom.
Light cleaning services from a professional caregiver at Visiting Angels Havertown may be helpful if your loved one is having trouble with keeping their home tidy. As part of our commitment to the safety and comfort of our clients, we provide light housekeeping as part of our home care options.
Why Choose Visiting Angels Havertown for In-Home Care?
Visiting Angels Havertown is trusted by families in Montgomery, Delaware and Philadelphia Counties to provide light housekeeping services because of our dedication to provide compassionate, individualized care for seniors in the comfort of their own homes. This means that we will collaborate with you to establish the services that your loved one really needs while also adhering to their schedule.
Our caregivers can help with:
Doing laundry
Washing dishes
Cleaning countertops and other surfaces
Dusting and sweeping
Clearing walkways
Changing bedsheets
Taking out the garbage
And more
When it comes to home care for the elderly, we provide more than just help with light housekeeping. We also provide many additional home care services for the elderly, including but not limited to: support with personal care (such as bathing and dressing), meal planning and preparation, medication reminders and errand assistance. When our caregivers help our elderly clients with everyday tasks, it makes it much simpler for them to continue living on their own.
Call Visiting Angels Havertown at 484-451-7359 to schedule a free in-home consultation.
Serving Havertown, Wayne, Bryn Mawr, Wynnewood, Broomall and the surrounding areas of Delaware, Montgomery, and Philadelphia Counties including the Main Line
Visiting Angels
HAVERTOWN, PA
1950 Lawrence Road First Floor
Havertown, PA 19083
Phone: 484-455-7702
Fax: 610-924-9690