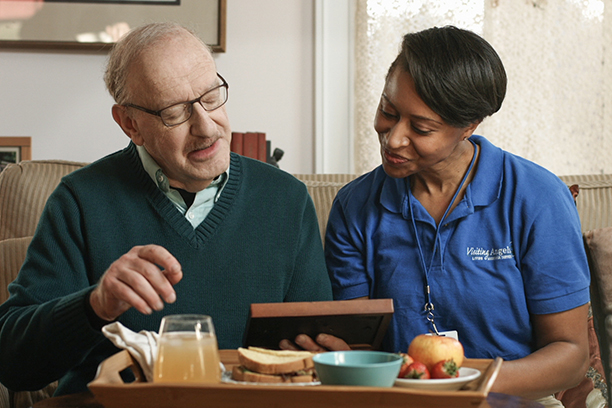 Tips from Visiting Angels Havertown: Managing Elder Care Stress
As a family caregiver, it's important to manage your stress levels so you don't feel burnt out from providing care to your senior loved one. Fortunately, the elder care experts from Visiting Angels Havertown can help.
An estimated 39.8 million Americans provide care to adults who are ill, aging, or disabled. As home care professionals serving seniors in Havertown, PA, Visiting Angels® Havertown knows if you're one of them, the job can be rewarding, but it can also impact your physical and mental well-being. That's why it's so important to take good care of yourself.
To help you manage your stress level and maintain your quality of life, here are some tips to remember.
Get to bed early. When you don't get enough sleep, you don't feel well, nor can you think clearly. Beyond that, regular sleep deprivation is connected with an increase in the risk of kidney disease, high blood pressure, heart disease, stroke, and diabetes. So make an effort to get to bed early and get at least eight hours of sleep each night.
Eat well. At Visiting Angels Havertown, we know keeping your body well-nourished is another important aspect of managing stress when you're delivering senior care to a loved one. Avoid the temptation to stress eat or consume processed or sugary foods. Instead, aim for whole foods during meals and eating healthy snacks throughout the day.
Workout. As elder care professionals, Visiting Angels Havertown knows that exercise not only keeps you healthy, but is an effective form of stress relief. Whether you hit the gym regularly, ride your bike, or go for walks is up to you. Just strive to workout several times a week. It will have a positive impact on both your mental and physical well-being.
Take breaks. At Visiting Angels Havertown, we know it's easy for family caregivers to push themselves harder and put their own needs last. But sometimes, you must be the priority. So if you're feeling tired or overworked, take a break. Ask for respite help from family or friends. Throughout each day, also take a few minutes for yourself so you can relax your body and renew your mind.
Get help. If your loved one's in-home care needs are increasing at a pace you can't keep up with, consider professional help from an agency like Visiting Angels Havertown. We can provide as much care as needed – whether it's respite relief or full-time, private duty care – so both you and your loved one get the right level of help and support.
Elder Care from Visiting Angels Havertown is a Call Away
If you'd like to learn more about our range of elder care services – and how we can help your loved one – simply call our Havertown office today. Visiting Angels Havertown is dedicated to meeting the needs of seniors and families in Broomall, Delaware County, Main Line, Montgomery County, the Philadelphia counties, and the surrounding PA areas.
Serving Havertown, Wayne, Bryn Mawr, Wynnewood, Broomall and the surrounding areas of Delaware, Montgomery, and Philadelphia Counties including the Main Line
Visiting Angels
HAVERTOWN, PA
1950 Lawrence Road First Floor
Havertown, PA 19083
Phone: 484-455-7702
Fax: 610-924-9690