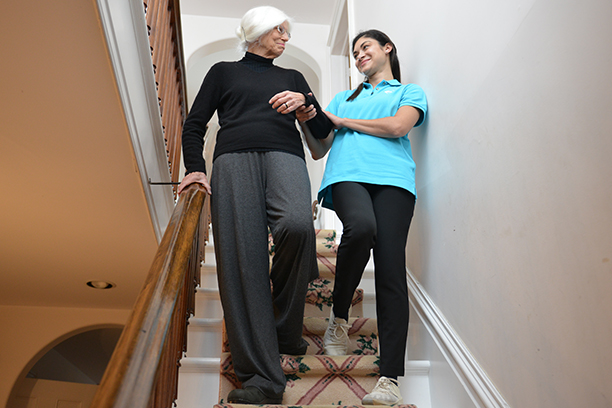 Ways Our Caregivers Help Seniors in Havertown, PA and Surrounding Areas
When age catches up with us, it can come with a number of difficulties. Age-related challenges vary widely, from mobility problems to memory disorders to the effects of senior isolation. So when you're looking for in-home care in Montgomery, Delaware and Philadelphia Counties, it's important that you find professionals who can address your loved one's most pressing care concerns.
No matter your loved one's age-related difficulties, you'll find the care you need at Visiting Angels Havertown. Our caregivers assist seniors in Havertown, Wayne, Bryn Mawr, Wynnewood, Broomall a with and nearby Pennsylvania communities wide range of activities, offering comprehensive essential personal care in the comfort of our clients' homes.
Physical Assistance
It is natural to lose strength, flexibility, and coordination in old age. For many seniors, a decline in strength or mobility can make day-to-day activities hard to accomplish. When this happens, caregivers from Visiting Angels Havertown are happy to lend a hand. We assist Havertown-area seniors with activities like dressing, grooming, bathing and going to the bathroom. We also assist seniors with mobility challenges and can provide a helping hand around the home.
Helping Seniors Make Healthy Lifestyle Changes
At Visiting Angels Havertown, we don't simply provide physical assistance to clients — we also make it easier for clients to lead healthier lives. We can help your loved one maintain a senior-friendly diet by shopping for groceries, planning meals and preparing food. We also provide a partner for light exercise, including activities like walks and gardening.
Memory Aids & Support for Cognitive Decline
If your loved one suffers from a memory disorder or cognitive decline, Visiting Angels Havertown can help make day-to-day life more navigable. We provide reminders for important events and medications, remain on hand to assist seniors if they become confused, anxious or agitated, and can monitor those with memory disorders to ensure they are safe.
Companionship & Emotional Support
In retirement, many seniors find themselves cut off from the world. This leads to senior isolation, a condition that is linked with rapid decline in seniors' quality of life. By providing Havertown-area seniors with company through the day, our caregivers help seniors overcome the effects of senior isolation.
Select Your Caregiver® With Visiting Angels Havertown
Thanks to our Select Your Caregiver® program, Havertown seniors and families have the final say in the care provider they work with through Visiting Angels Havertown. Our home care services are available throughout Havertown and nearby communities like Broomall, Bryn Mawr, Wayne and Wynnewood.
Contact our office today to schedule a consultation with Visiting Angels Havertown.
Serving Havertown, Wayne, Bryn Mawr, Wynnewood, Broomall and the surrounding areas of Delaware, Montgomery, and Philadelphia Counties including the Main Line
Visiting Angels
HAVERTOWN, PA
1950 Lawrence Road First Floor
Havertown, PA 19083
Phone: 484-451-7359
Fax: 610-924-9690