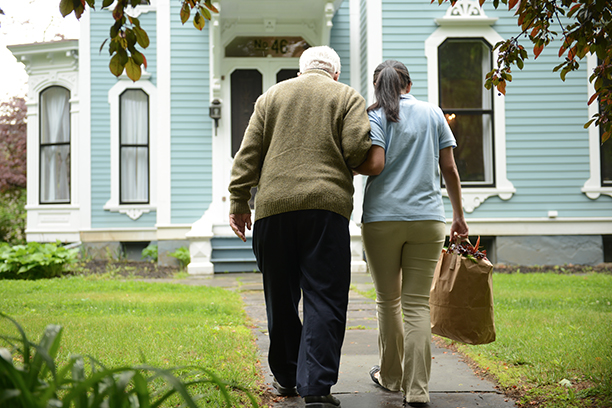 Meal Planning and Preparation for Seniors in and Around Havertown, PA
Visiting Angels Havertown assists elderly and disabled adults in Havertown, Broomall, Wayne, Bryn Mawr, Wynnewood and throughout Philadelphia, Montgomery and Delaware Counties in planning and preparing tasty and healthy meals. Our caregivers are here to help your loved one remain healthy and comfortable in their own home by supporting them with meal planning, nutritious meal preparation and snacking, grocery shopping and so much more. With our individualized, one-on-one approach to at-home care services, you can be certain that your loved one will be in skilled and compassionate hands.
Why Do Seniors Have Trouble with Preparing Meals?
There are several reasons why seniors should eat a healthy diet. Although it is practical for individuals of all ages to think about what they eat, it is particularly important for seniors to think about meals and snacks that might help them acquire the nutrients they need.
Unfortunately, there are several reasons why an older adult may be malnourished, overeat or just consume the inappropriate foods for their age and chronic illnesses, including:
Age-related issues: One of the main reasons why people over the age of 65 have difficulty consuming a healthy diet is that they are not as robust as they once were. Due to mobility limitations, your loved one may have difficulty reaching certain kitchen utensils and appliances, or he or she may lack the stamina to spend time and effort cooking a nutritious meal. Eating a healthy diet may go by the wayside as your loved one struggles to meet their daily needs.
Medication side effects: Certain drugs might reduce a senior's appetite or make them too tired to prepare a whole meal. For example, if your loved one is having chemotherapy, they may get sick, and eating highly rich, spicy meals may be out of the question, even if they are the only option. They may instead choose not to eat.
Chronic illnesses: Seniors may be afflicted with a variety of medical disorders that make good eating, and eating in general, difficult. Instead of creating an entire dinner from scratch, your loved one may just opt to heat up a frozen dish. Many easy-to-prepare meals are rich in salt and cholesterol, which may be harmful to their health.
Seniors living in Havertown, Broomall, Wayne, Bryn Mawr, Wynnewood and surrounding areas, however, can obtain the assistance they need to keep to a nutritious diet with the aid of at-home care services from Visiting Angels Havertown. Our goal is to provide the support seniors need so they can stay independent for much longer.
How At-Home Care Services from Visiting Angels Havertown Can Help Your Loved One
Our caregivers can assist your senior loved one in sticking to a well-balanced diet if they are having trouble with preparing their own meals. As you can expect, this may have a huge influence on your loved one's entire quality of life. Sticking to a proper diet may offer your loved one more energy, lead to a more positive attitude and even help specific health concerns that older individuals often face, such as diabetes.
Our meal preparation services include:
Planning healthy options for meals throughout the week
Preparing healthy dishes taking dietary restrictions into account
Feeding assistance for seniors with Parkinson's and other conditions that can impact their fine motor skills
Providing meaningful companionship during mealtimes
Helping with creating a shopping list and grocery shopping
Picking up online grocery orders or handling deliveries
And more
Our at-home care services don't stop at meal preparation; Visiting Angels Havertown offers so much more. For example, we can help clear the table and wash dishes after every meal and remind your loved one to take their medication if they need to take their medicine with food. Our comprehensive approach to senior care can help your loved one remain safe, comfortable and healthy as they live out their golden years in their beloved home.
Call our Havertown, PA office at 484-451-7359 to learn how our at-home care services can help your loved one today!
Serving Havertown, Wayne, Bryn Mawr, Wynnewood, Broomall and the surrounding areas of Delaware, Montgomery, and Philadelphia Counties including the Main Line
Visiting Angels
HAVERTOWN, PA
1950 Lawrence Road First Floor
Havertown, PA 19083
Phone: 484-455-7702
Fax: 610-924-9690