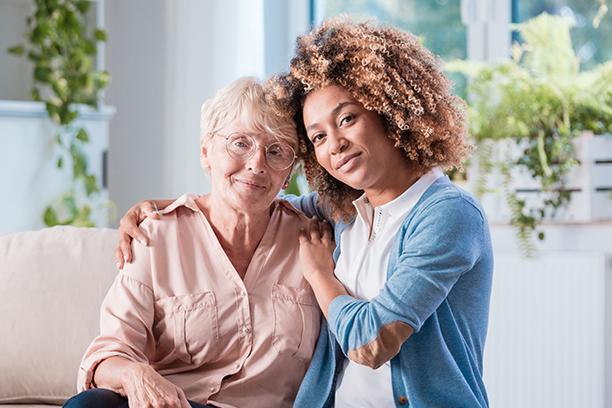 Stroke Recovery Care for Seniors in Havertown, PA and Surrounding Areas
People who have had a stroke may face a variety of physical and mental difficulties throughout the recovery process, including paralysis, difficulty communicating, and memory loss. As many as two-thirds of those who have a stroke may be left permanently disabled as a result. For this reason, it's crucial to provide enough care and support for a senior loved one after they've had a stroke, and to seek strategies to expedite their recovery.
A stroke patient's recovery process is very different from that of a healthy family member. It goes without saying that you are going to need as much assistance as you can obtain if a loved one of yours has just had a stroke. The good news is that Visiting Angels Havertown provides in-home stroke recovery care in Havertown, Wayne, Bryn Mawr, Wynnewood, Broomall and throughout Delaware, Montgomery and Philadelphia Counties. It will be easier for your family member to heal and regain their independence with the help of our skilled and kind caregivers.
Why Choose Visiting Angels Havertown for Stroke Recovery Care?
For over two decades, Visiting Angels Havertown has provided stroke recovery care services to elderly clients in Montgomery County, Delaware County, Philadelphia County and the Main Line. The danger of a second stroke is high for elderly people who are recuperating from the first one, but with the aid of a devoted, professional caregiver from our team, your loved one will get the support they need to recover in their own home.
If your loved one has suffered speech impairment due to a stroke, our caregivers will engage in daily conversation with them to facilitate recovery. If your loved one has trouble with preparing meals, getting from room to room or driving, our caregivers can provide the assistance they need. We can also motivate your loved one to follow the recommendations of their physical or occupational therapists by helping them with things like folding clean clothes, buttoning shirts and light exercise. If your loved one has follow-up appointments with their healthcare provider to aid in their recovery, our caregivers can take them to their appointment and take them home afterwards.
Our care plans are unique to each individual, which is a huge plus. When it comes to home care, we think all seniors should get the attention they need to age in place comfortably and happily. That's why we'll tailor the stroke recovery care we provide to your loved one's specific needs, ensuring that they get just the in-home assistance they'll appreciate most as they get back on their feet after a stroke. Also, we will be flexible with your loved one's schedule to ensure that they can keep up with their usual activities. Best of all, our stroke recovery care services will help your loved one recover in a setting that is familiar and comfortable.
Call Visiting Angels Havertown at 484-451-7359 to learn how our home care services can help your loved one.
Serving Havertown, Wayne, Bryn Mawr, Wynnewood, Broomall and the surrounding areas of Delaware, Montgomery, and Philadelphia Counties including the Main Line
Visiting Angels
HAVERTOWN, PA
1950 Lawrence Road First Floor
Havertown, PA 19083
Phone: 484-455-7702
Fax: 610-924-9690