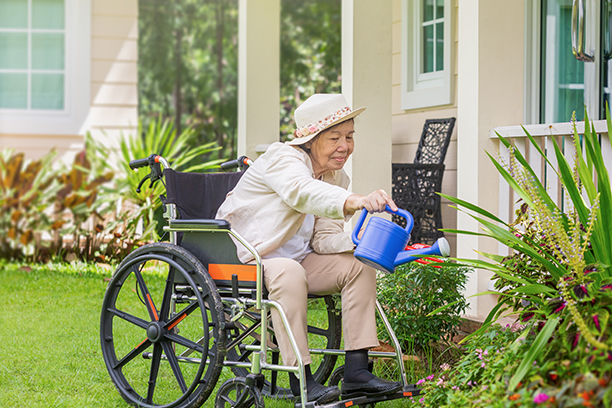 Personal Hygiene Assistance for Seniors in and Around Havertown, PA
It may be time to look into professional home care services if your elderly loved one is displaying indications of having problems with taking care of their personal hygiene. Mobility and cognitive impairments that are associated with aging may make it difficult for seniors to take care of themselves, which can either lead to new health problems or make existing health problems worse.
If your loved one has bad breath, wears the same clothing for multiple days in a row, has a strong body odor or hasn't brushed their hair, consider personal hygiene assistance from Visiting Angels Havertown.
Elderly and disabled adults in in Havertown, Wayne, Bryn Mawr, Wynnewood, Broomall and the rest of Montgomery, Philadelphia and Delaware Counties have benefitted from our in-home care services, which include assistance with daily activities to ensure their safety and comfort, for many years. Our trained caregivers can help your loved one with personal care tasks like bathing, grooming and getting dressed with the utmost consideration for their independence and autonomy.
How Can Visiting Angels Havertown Help My Loved One Take Care of Their Personal Hygiene?
Visiting Angels Havertown provides in-home care services that include assistance with personal hygiene so that our clients can remain healthy and independent as they age in place. Assisting them in developing and sticking to healthy hygiene routines can reduce their risk of contracting a wide range of diseases and infections, and thereby enhance their quality of life.
Our mission is to provide superior home care services with a focus on an individualized, one-on-one approach to senior care, setting us apart from other home care providers in Montgomery, Delaware and Philadelphia Counties. That is, rather than offering the same services to every client, we design custom-tailored care plans depending on the requirements and schedule of the particular care recipient.
With Visiting Angels Havertown on your side, you can be certain that your loved one is getting the dignified support they need on a schedule that suits them best.
Here are some ways our caregivers can help your loved one take care of their personal hygiene:
Bathing and showering
When it comes to being healthy, nothing beats a good, long soak in the tub. It's a great way for elderly people to decompress and chill out after a long day. However, as people age, they may find it harder to take a bath. If your loved one suffers from arthritis or joint pain, they may find it difficult to use a standard bathtub. The chances of falling are further increased by walking on slippery floors. Our caregivers provide assistance to your loved one while they shower or bathe if they have problems getting in and out of the tub on their own.
Getting dressed
Clean clothes are an essential aspect of maintaining good personal hygiene. Many elderly people find it more challenging to get dressed as they age. If your loved one wears the same thing for many days at a time, it might be embarrassing. Wearing unclean clothing for a long period of time also increases the risk of developing skin conditions.
Our caregivers can help your loved one choose clean, comfortable and weather-appropriate clothing. We can also provide a hand with getting dressed to ensure that they don't hurt themselves in the process.
Brushing their teeth
To keep your teeth and gums healthy, brushing twice a day is recommended. Plaque and bacteria on the gums may also contribute to tooth decay, therefore brushing your teeth can help get rid of them. It becomes more harder to clean one's teeth as one ages due to a natural reduction in hand dexterity.
That's no excuse to skip cleaning your teeth, however! If your loved one has trouble remembering or properly cleaning their teeth because of a condition like Parkinson's disease or arthritis, our home care experts can assist.
Combing their hair
As people become older, they often find that simple tasks, like combing their hair, become more challenging. So, they might not always look neat and clean. Dandruff is very frequent among the elderly, but it may be avoided with regular brushing.
Our caregivers can help your loved one comb their hair every morning before leaving the house. We will demonstrate the correct technique to ensure that they do not hurt themselves. For those who are concerned about their loved one's hair length, our caregivers are happy to accompany them to the salon or barbershop of their choice and remind them of their appointment beforehand.
Call Visiting Angels Havertown at 610-924-9663 to learn how our home care services can help your loved one.
Serving Havertown, Wayne, Bryn Mawr, Wynnewood, Broomall and the surrounding areas of Delaware, Montgomery, and Philadelphia Counties including the Main Line
Visiting Angels
HAVERTOWN, PA
1950 Lawrence Road
Havertown, PA 19083
Phone: 610-924-9663