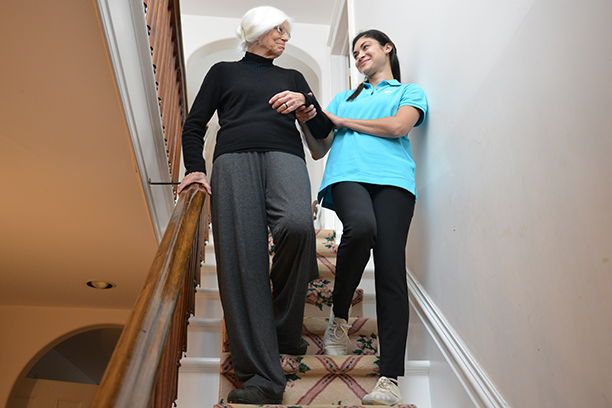 Glossary of Personal Care Service Terms for Greater Largo, MD
Personal Care Service Terms for Families in Largo, Fort Washington, Glenarden, and Surrounding Areas
Searching for senior care and personal care services in Largo or the surrounding area can be challenging, especially if you have not had prior experience with securing care for a loved one. To learn more, refer to these terms below:
ACTIVITIES OF DAILY LIVING (ADLS)
ADLS refers to daily living activities like bathing, eating, grooming, dressing, toileting, managing medications, moving around and many other daily living activities.
ASSISTED LIVING FACILITIES (ALF)
In the US. there are around 28,000 assisted living communities. Assisted living is for seniors who can no longer live independently and need assistance with medications and activities of daily living, like bathing, grooming, eating, dressing and toileting. Assisted living facilities are also known as ALFs within the community.
ADULT DAY CARE
Adult Day Care Services offer structured personal care services with stimulating social activities, health-related and rehabilitation services for seniors who are physically or emotionally disabled and need a protective environment during the day. Participants usually arrive in the morning and leave in the evening.
AGING IN PLACE
Seniors choose to stay in their home regardless of the physical and/or mental decline that can occur when you age.
ALZHEIMER'S DISEASE
A progressive, neurodegenerative disease characterized by loss of function and death of nerve cells in several areas of the brain, leading to loss of mental functions such as memory and learning. Alzheimer's disease is the most common cause of dementia.
CAREGIVER
In the US alone, 65.7 million caregivers make up 29% of the adult population, providing personal care services to an individual who is ill, disabled or has aged. A caregiver is a primary person who cares for an individual with special needs, usually associated with Alzheimer's disease. Usually, this is a member of the family or health care professional.
CONTINUUM OF CARE
A full range of personal care services available at Continuing Care Retirement Communities which may include Independent Living, Assisted Living, Nursing Care, Home Health, Home Care, and Home and Community Based Services.
CONTINUING CARE RETIREMENT COMMUNITY (CCRC)
This is a community that provides a wide array of help, including independent living, assisted living, and skilled nursing care. These communities usually offer long-term contracts or written agreements between the resident and the community which offer a continuum of housing, services, and health care system, usually all on one campus or site.
CONVALESCENT HOME
This is where a senior can recover from an illness or injury in the short-term and then return home.
DEMENTIA
The severe loss of intellectual functions, such as thinking, remembering, and reasoning. Dementia is not a disease itself but a group of symptoms that may accompany certain diseases or conditions. Signs can include changes in personality, mood, and behavior. Dementia is irreversible when caused by disease or injury, but may be reversible when caused by drugs, alcohol, depression or hormone and vitamin imbalances.
HOME HEALTH CARE
This is where licensed professionals provide medical and nursing services in a senior's home.
HOSPICE CARE
Philosophy and approach to providing comfort and personal care services at an individual end of life rather than providing heroic lifesaving measures. This includes medical, counseling, and social services. Most hospice care is provided in an individual's home, while specialized hospices or hospitals also provide these services.
INDEPENDENT LIVING
This is where a senior has the physical and mental capacity to live independently but craves companionship. Independent living offers specific services and amenities that cater to seniors and encourage active and healthy senior lifestyles for their golden years. This is not an option for those who cannot care for themselves.
INSTRUMENTAL ACTIVITIES OF DAILY LIVING (IADLS)
Unlike Daily Living Activities, which are essential for fundamental functioning, IADLs are not essential and are the activities that let seniors live independently, such as transportation and paying bills.
LIFE CARE COMMUNITY
A Continuing Care Retirement Community that offers an insurance type contract and provides all levels of personal care services. It often includes payment for acute care and physician visits, little or no change is made in monthly fees, regardless of the level of medical care required by the resident. The only fees that might change are the actual cost of living expenses.
LONG TERM CARE INSURANCE (LTCI)
This insurance pays for care services for seniors or chronically ill. This is provided in a community or in an individual's home with a nurse or aide.
NURSING ASSISTANT
A nursing assistant provides personal care services, including bathing, dressing, and toileting. They need to be trained, tested, and certified to provide care in nursing facilities that participate in the Medicare and Medicaid programs. They usually work under the supervision of a Registered Nurse or Licensed Practical Nurse.
NURSING HOME
A facility licensed by the state that provides 24-hour nursing care, room, and board, and activities for convalescent residents and those with chronic and/or long-term care illnesses. One step below hospital acute care. Regular medical supervision and rehabilitation therapy are mandated to be available, and nursing homes are eligible to participate in the Medicaid program. May be referred to as Nursing Facility or Convalescent Home. See also Skilled Nursing Facility.
OCCUPATIONAL THERAPY
Seniors are referred to this creative activity due to its effects in promoting recovery or rehabilitation. This helps individuals relearn daily living activities and is usually administered by a licensed therapist.
PALLIATIVE CARE
Palliative care focuses on providing pain relief and preventing lasting suffering. Palliative care strives to improve a senior's quality of life including physical, emotional, spiritual and social concerns that arise.
PHYSICAL THERAPY
The treatment of disease or injury, by physical and mechanical means (such as massages, regulated exercise, water, light, heat, and electricity.) Physical therapists plan and administer prescribed physical therapy treatment programs for residents to help restore their function and strength.
REGISTERED NURSE (RN)
This someone who has passed their state board examination and is licensed by a state agency to practice nursing. A minimum of two years of college is required in addition to the passage of the state exams. The RN plans for resident care by assessing resident needs, developing and monitoring personal care services in conjunction with physicians, as well as executing highly technical skilled nursing treatments.
REHABILITATION
Therapeutic care for someone who requires rigorous physical, occupational, or speech therapy.
RESPITE CARE
Respite care provides family caregivers with the opportunity to rest and recharge, ranging from a couple hours to a couple days. This type of personal care servicecan be provided in a senior's home or in an assisted living facility or nursing home, known as residential housing.
SANDWICH GENERATION
These adults provide personal care services for both their elderly parents and their children.
SENIOR APARTMENTS
These apartments are for older adults who can care for themselves. These are multi-unit housing with independent living units for seniors, usually age 55 and over. There are no additional services provided, such as meal preparation or transportation services.
Serving Largo, Upper Marlboro, Fort Washington, and Nearby Cities in Prince George's County
Visiting Angels
LARGO, MD
9701 Apollo Dr #300
Largo, MD 20774
Phone: 301-583-8820
Fax: 301-809-9003