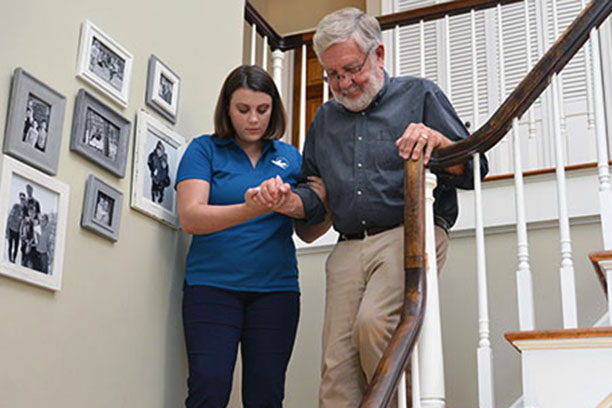 Visiting Angels' In Home Caregivers Can Implement Our Fall Prevention Program for Seniors in Largo, Upper Marlboro, MD, and the Surrounding Area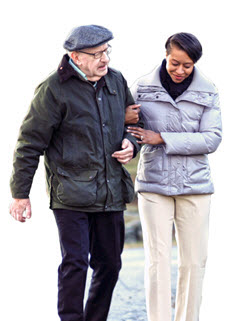 Visiting Angels' In Home Caregivers are Trained to Provide Our Safe and Steady Fall Prevention Program in Largo, Upper Marlboro, Fort Washington, and Nearby Cities in Prince George's County

The number one reason seniors lose their independence is due to falls!

While a fall can certainly impact you physically, it can also result in emotional scars and social limitations. In the end, falls affect a person's quality of life altogether. Unfortunately, after experiencing a fall, seniors often begin to avoid leaving their house for the fear of repeating the injury, causing them to decline social invitations and miss out on family functions. This behavior can lead to feelings of depression, sadness, anxiety, loneliness, and social isolation.
Falls Are Life-Changing
Did you know that:
People who fall once are more likely to fall again.
Every year, over 800,000 individuals are hospitalized because of a fall.
It can take up to a year to recover from injuries that are sustained from a fall. While some people leave the long-term care facility, others do not and can never go back home again.

Annually, 1 in 3 seniors fall, while 1 in 5 of them sustain serious injuries like concussions, fractures, and broken hips.
Falls Don't Just Happen!
In order to better understand falls, it is essential to understand the risk factors, something that increases a person's chances of falling, that lead up to them. Usually, there are more than one risk factor present and they are typically associated with physical conditions, medical problems, or home environment. For instance, dehydration, poor eyesight, arthritis, taking multiple medications, and the lack of grab bars in the shower or bathtub are a few examples of risk factors. However, a great number of falls can be prevented by simply identifying and addressing risk factors promptly.
One of the biggest challenges in a senior's life is fall and injury prevention. At Visiting Angels of Largo, our in home caregivers are committed to investing in the education of elderly clients and their families. Our in home caregivers are trained to reduce falls, a crucial skill that improves the quality of our clients lives.
Download Your Free Safe & Steady Fall Prevention Resource Guide Today
Schedule Your Free, In-Home Assessment
Visiting Angels of Largo is happy to answer any questions you may have about our home care services. If you have an aging loved one who is struggling to remain independent in Largo, Upper Marlboro, Fort Washington, or a nearby city in Prince George's County, contact us today to learn more about our services and how our in home caregivers can help!

Serving Largo, Upper Marlboro, Fort Washington, and Nearby Cities in Prince George's County
Visiting Angels
LARGO, MD
9701 Apollo Dr #300
Largo, MD 20774
Phone: 301-583-8820
Fax: 301-809-9003