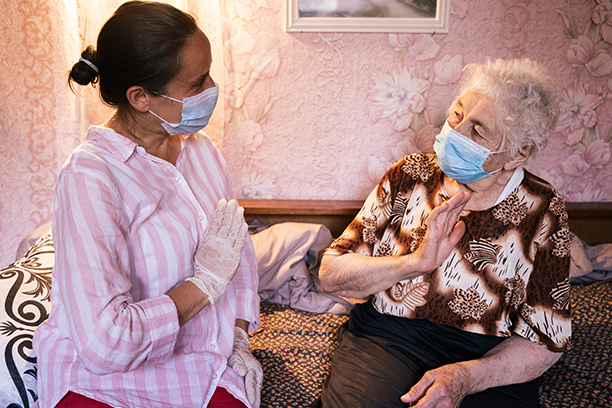 One on One Home Care Solutions for Alzheimer's Disease in Largo, Upper Marlboro, MD, and Neighboring Cities
Visiting Angels Offers Alzheimer's Home Care Solutions in Largo, Upper Marlboro, Fort Washington, and Nearby Cities in Prince George's County

If someone you care about is displaying symptoms of Alzheimer's, then it is imperative to be proactive before the disease progresses. While there is no cure for Alzheimer's, the sooner a diagnosis is made, the sooner home care solutions can be put in place. If your loved one is expressing any of the symptoms below, speak to a physician for an assessment. It is important you understand the signs of Alzheimer's and what to do if you start to notice them in your loved one.

The Ten Alzheimer's Warning Signs
Memory Loss – unable to recall recent events, where things go, names, and information.
Inability to Problem Solve – difficulty in performing familiar tasks, focusing, and solving issues that are easily resolved.
Difficulty Completing Tasks at Home or Work – unable to keep track of familiar tasks such as monthly bills or a familiar recipe.
Confusion Over Time and Place – difficulty in tracking the passage of time, like seasons and important dates.
Trouble Understanding Visual Images and Spatial Relationships – trouble with determining color, reading, and judging distance.
Struggling with Words – cannot find the correct wording, unable to follow conversations, and struggles to complete sentences.
Misplacing Things and Unable to Retrace Steps – putting items in strange places, accuses others of stealing, and unable to recall where familiar items are.
Decreased Judgment When Making Decisions – easily gullible and no care for hygiene or grooming.
Withdrawal from Work and Activities – disinterest in usual activities, like family outings and events.
Mood or Personality Changes – increased frustration, anxiety, depression, or suspicion, and rapid mood swings.
Get your loved one evaluated by a health care professional if they are displaying any of these signs. There are many things that are considered a normal part of aging. However, Alzheimer's disease is a condition, not to be confused for simple forgetfulness that will get worse over time.
Manage the Disease by Being Proactive
Once an Alzheimer's diagnosis is given, it is essential to be proactive in finding the right home care solutions to manage the disease in order to maintain quality of life. The following are a few steps that you may find helpful:
Learn as much as you can about the disease so you can prepare. To learn more about Alzheimer's, here are two helpful sources: The Alzheimer's Foundation of America and the Alzheimer's Association.

As soon as possible, discuss financial and legal issues. Plan for long-term care and end-of-life support.



Arrange for home care solutions for on-site support and respite care if you're planning on being the primary caregiver for your loved one. Additionally, it's easiest to introduce caregivers early on while a client is still in the earlier stages of Alzheimer's. When looking for a caregiver, be mindful to find someone with Dementia Care Professionals of America training like Visiting Angels of Largo.
Build a support system to help in times when you're feeling stressed and overwhelmed. When you're a primary caregiver to a loved one, it is important to have a network of people you can reach out to for assistance, or simply to talk to.
Schedule Your Free, In-Home Assessment
Visiting Angels of Largo is happy to answer any questions you may have about our home care solutions. If you have an aging loved one who is struggling with Alzheimer's Disease in Largo, Upper Marlboro, Fort Washington, or a nearby city in Prince George's County, we encourage you to contact us today and we will be happy to go over our home care solutions with you! To schedule a free, in-home assessment with one of our care coordinators click the button below.

Serving Largo, Upper Marlboro, Fort Washington, and Nearby Cities in Prince George's County
Visiting Angels
LARGO, MARYLAND
9701 Apollo Dr #300
Largo, MD 20774
Phone: 301-583-8820
Fax: 301-809-9003