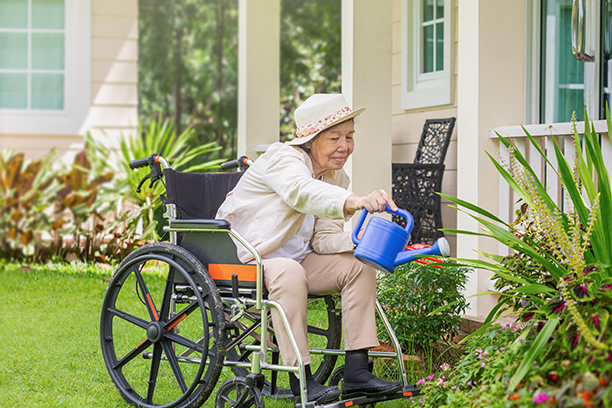 Answering Greater Largo and Upper Marlboro, MD's Most Pressing Home Health Questions About Alzheimer's Disease
How a Home Health Care Provider from Visiting Angels Can Help Seniors with Alzheimer's Maintain Their Lifestyle in Largo, Upper Marlboro, Fort Washington, and Nearby Cities in Prince George's County

Many families fear that a diagnosis of Alzheimer's or dementia means that their loved one will have to leave their home and move into a nursing home or other facility. At Visiting Angels, we provide in-home senior services to clients
in Largo, Upper Marlboro, Fort Washington, and nearby cities in Prince George's County
with a wide variety of needs, abilities, and diagnoses, and can help your loved one too. A home health care provider from Visiting Angels can aide your elderly loved one stay comfortable safe, and healthy at home even if they have been diagnosed with Alzheimer's or dementia.
What is Alzheimer's Disease?
Alzheimer's is a form of dementia that impacts memory, behavior, critical thinking, and other mental abilities. It is a progressive disease, which means that symptoms usually become noticeable over time and will continue to worsen. Alzheimer's is the most common type of dementia and affects 50-80% of all dementia cases.
How does Alzheimer's impact everyday life?
In its early stages, Alzheimer's is usually noticed in an inability to remember people, places, or events. In late-stage Alzheimer's, individuals can lose the ability to communicate or become unresponsive to their environment. Depending on the severity of the condition, other impacts might include slowed thinking, changes in personality, increased anger or anxiety, or being unable to complete daily tasks.
How can a caregiver help?
In home care services from Visiting Angels are designed to meet the individual needs of your aging loved one. A home health care provider can help with meal planning and preparation, medication reminders, light housekeeping, linens changing, or laundry. An Alzheimer's or dementia care provider can also assist with more intensive needs, such as mobility or re-positioning, grooming, bathing, toileting, and anything else that might be needed during the later stages of Alzheimer's.
Schedule Your Free, In-Home Assessment
If your loved one has been diagnosed with Alzheimer's or dementia, you are not alone. Visiting Angels of Largo can offer a home health care provider who has expertise in Alzheimer's and the specific needs of your loved one. We can also help you connect with the local Alzheimer's Association for more information, resources, and support. Contact us today to learn more about our in-home care services or to schedule your no-cost, in-home assessment

Serving Largo, Upper Marlboro, Fort Washington, and Nearby Cities in Prince George's County
Visiting Angels
LARGO, MARYLAND
9701 Apollo Dr #300
Largo, MD 20774
Phone: 301-583-8820
Fax: 301-809-9003