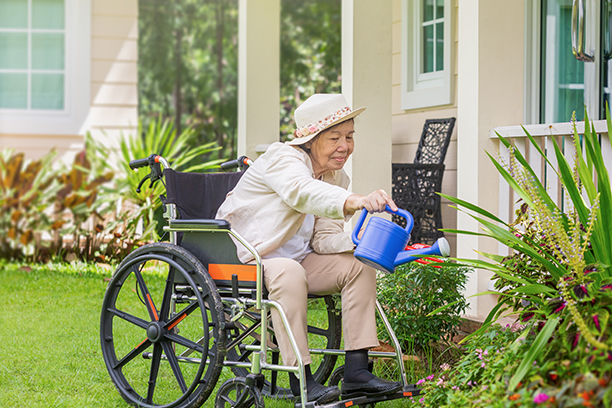 Our Character
Compassionate Living Assistance Services from Visiting Angels Lubbock
When you discover that your loved one in the Lubbock, TX area is in need of living assistance, finding a provider you can trust is essential. If you could choose your ideal caregiver, what qualities would you want them to have? At Visiting Angels Lubbock, we believe our living assistance professionals possess all of the qualities you're looking for: compassion, knowledge, experience, and more.
Visiting Angels Lubbock is a non-medical living assistance agency. We provide care to seniors and the disabled in Lubbock, Lynn, Crosby, Floyd, Garza, Hale, Hockley, Lamb Counties and the surrounding areas. We are the trusted source for living assistance because we have experienced, compassionate caregivers on our team. When you choose Visiting Angels Lubbock for living assistance, you can rest easy in the knowledge that your loved one is receiving top notch, respectful elder care.
The character and personality of the caregiver you choose to provide living assistance care to your family member is as important as their experience. If your loved one is able to trust and bond with their caregiver, the quality of care they receive will be unbeatable. With Visiting Angels Lubbock as your choice for living assistance care, you and your family member will be able to choose the elder care professional that you connect with most. We want our Lubbock area clients to be involved in choosing the caregiver that will work best for them.
At Visiting Angels Lubbock, our living assistance care is provided by caregivers with impeccable character. When we start the multi-step interview process, we look for individuals who enjoy spending time with the elderly and who believe in treating clients with respect and compassion. If the potential caregiver possesses these qualities, then we conduct a criminal history and background check and look at references for previous senior care experience. We want you to feel confident we have covered all of our bases before placing a living assistance professional in your home.
All of the caregivers in our Lubbock office are employees of our agency. Our team of living assistance professionals is personally invested in our agency and in providing top notch care for our clients. Whether we are stopping by a few times a week, or providing around the clock care, the living assistance professionals in our Lubbock office want to be the bright spot in your loved one's day and your partner in senior care.
If you have been searching for the right caregiver to provide living assistance for your family member, please call our Lubbock office today.
Serving Lubbock, Lynn, Crosby, Floyd, Garza, Hale, Hockley, Lamb Counties, TX
Visiting Angels
LUBBOCK, TX
5428 114th St
Lubbock, TX 79424
Phone: 806-687-2780
Fax: 806-687-2784