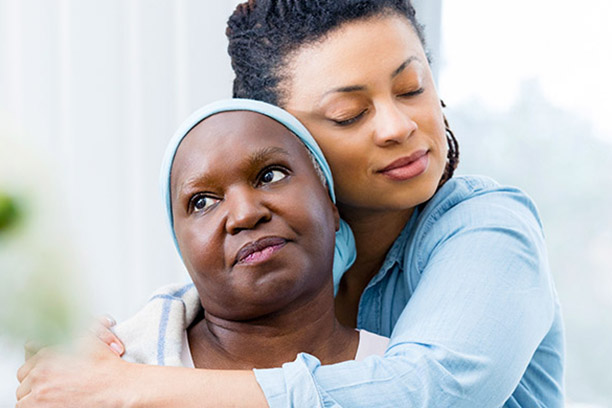 End of Life Care for Seniors in Lubbock, TX and the Surrounding Area
If you are searching for the end of life care services that offer physical and emotional support for a loved one, look no further than Visiting Angels Lubbock. Our end-of-life services assist your loved one during the final stages of life while also supporting the family as a whole. We understand how difficult this time is, so we work with each person in the family.

There has been an increase in the number of seniors choosing to live out their days in the comfort of their own homes with the support of end-of-life care-- this is why we offer families compassionate and supportive home care services. Sadly, most agencies don't train their caregivers in this department; this aspect of care is often overlooked or misunderstood.
Our team of caregivers provides options for care to you and your loved one during this significant life transition. Our team will work diligently to keep your loved one as comfortable as possible. It is important to note that we do not offer hospice care, but we can work alongside and support the hospice team you bring around. We will be there to provide a helping hand whenever needed.

What is End of Life Care?

When a family member is diagnosed with a limited life expectancy, it is expected that they will require assistance in the form of care to address whatever pain or symptoms they may be living with. End of life home care is the type of care that most people turn to. These responsibilities often fall upon those closest to the ill senior-- if this is you, don't think you have to handle the stress and pressure on your own.

Visiting Angels provide this high level of care through our LifeCare Navigation™- our senior care services collection. Our Practical Care Tips for End of Life program; was designed to provide caregivers with the information needed to support and assist clients and their families.

These guidelines show how Visiting Angels use a client-focused approach to provide care. Our care levels are centered around the client's comfort and well-being. Caregivers provide essential personal home care services to help:

Minimize pain and other symptoms

Assist with individual tasks such as dressing, bathing, and daily hygiene

Alleviate feelings of loneliness, stress, and anxiety
While doing these services for clients, we also provide family and friend caregivers with respite and assistance. Tasks such as meal preparation, laundry, light housekeeping, shopping, and running errands are the most common chores we assist with. We provide families with caregivers that can be an anchor for families to turn to when they feel overwhelmed, offering emotional support or a helping hand whenever needed.

End of Life Care Options

If you seek compassionate and supportive end-of-life care, Visiting Angels can assist with this challenging time. To ensure that you get the best care service for your loved one, we encourage you to contact our Lubbock office. Our team is waiting and willing to offer you any information that you may need. They can also set you up with an in-home consultation with a Visiting Angels care director.


Ready to get started with the end of life care?

Find your nearest Visiting Angels' home care agency today or CONTACT US to learn more about our services!

Serving Lubbock, Lynn, Crosby, Floyd, Garza, Hale, Hockley, Lamb Counties, TX
Visiting Angels
LUBBOCK, TX
5428 114th St
Lubbock, TX 79424
Phone: 806-687-2780
Fax: 806-687-2784